Verizon Expands 4G LTE Coverage in California, Including S.F. Bay
Verizon continues to grow their large 4G LTE network with the expansion of coverage in California today.
Verizon announced enhanced and new 4G LTE coverage in California markets today, keeping ahead of rival AT&T. Verizon also announced coverage in Reno, Nevada.
Verizon subscribers in these areas will now enjoy data connection speeds up to 10 times faster than 3G, on 4G LTE Android phones with speeds between 5-12 Mbps down and 2-5 Mbps up. iPhone users will see no such speed boost.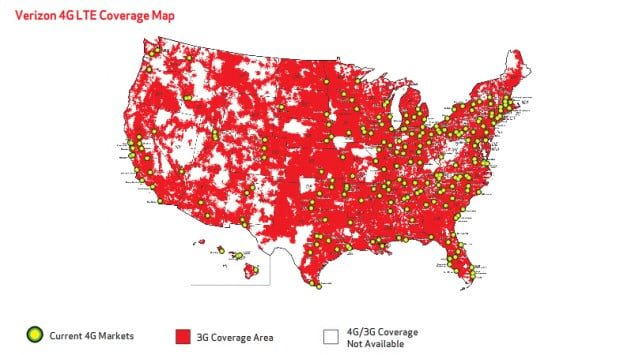 Many of these locations already had 4G LTE coverage, but will now offer better coverage with enhanced reach.
New Verizon 4G LTE towers are now live in the following cities
San Francisco Bay Area – enhancements in Highway 4, Brentwood, Fairfield, Half Moon Bay, Berkeley, Oakland, Livermore and San Francisco
Salinas and Monterey – new service in Moss Landing, Castroville, and San Ardo
San Luis Obispo – improved service in Arroyo Grande and South San Luis Obispo
Bakersfield – new service in the town of Arvin and parts of Lamont
Fresno – West and South Fresno area, including Highway 180 and Highway 99
Sacremento – new service in Woodland
Modesto – enhancements in Turlock, Patterson and Oakdale
Stockton – enhancements inQuail Lake, Lathrop and Waterloo
Visalia – new service in Visalia, downtown Hanford, Laton, Lemoore, downtown Tulare, Earlimart, parts of Porterville and along Highway 99
As Verizon banks on smartphones and competes with Sprint's up and coming 4G LTE network and AT&T's respectable 4G LTE offering expansion and gap-less 4G LTE coverage is increasingly important.
Verizon plans to cover 260 million people and 400 markets with blazing fast 4G LTE by the end of 2012.

As an Amazon Associate I earn from qualifying purchases.