Verizon Finally Confirms the Nokia Lumia 928, Coming May 16 For $99
The Nokia Lumia 928 is finally official, and will come to Verizon Wireless on May 16 for $99.99 on a two-year contract after a $50 mail-in rebate.
While Nokia doesn't acknowledge it in the announcement, the Lumia 928 is essentially the same as the Nokia Lumia 920 with a few added features. The new phone has a 4.5-inch display and an 8.7MP PureView camera, just like the Lumia 920, although it has a different, more angular design.
The 8.7MP PureView camera of the Lumia 928 has Optical Image Stabilization like the Lumia 920, but it adds a xenon flash that's not in AT&T's phone. The camera can still shoot 1080p video and should perform just as well in low-light situations. The xenon flash may even help make those photos better.
https://youtu.be/SRuXQk8g250
Nokia also put an emphasis on the speaker in the Lumia 928. The company claims the speaker can produce distortion-free sound at up to 140 decibels, which is incredibly loud. According to the Occupational Safety & Health Administration 140 dB is actually the threshold of pain for a human ear, where permanent damage can occur.
The Nokia Lumia 928 runs Windows Phone 8, and comes complete with a number of exclusive Nokia apps including City Lens, Nokia Music and HERE Drive+.
Like the Lumia 920, the Nokia Lumia 928 support wireless charging and has NFC for the Windows Phone 8 wallet app and for easy Bluetooth device pairing.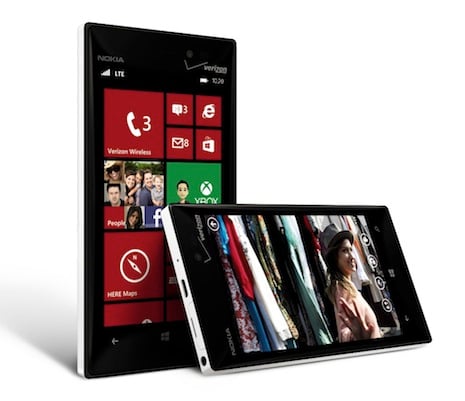 At $149.99 before the mail-in rebate, and $99.99 after, Verizon and Nokia priced the Lumia 928 fairly aggressively. The phone costs $100 less than the Samsung Galaxy S4 before the rebate on both, and after the rebate it costs the same as last year's iPhone 4S. With its price tag the Lumia 928 is the least expensive recent high-end phone on Verizon.
Windows Phone 8 still lacks the great app ecosystem that iOS and Android enjoy, but it's getting there. With its low price and impressive feature set, especially the PureView camera, some may have no problem overlooking the relatively weak Windows Phone Store for the Lumia 928.

As an Amazon Associate I earn from qualifying purchases.