Verizon Galaxy Nexus Gets Possible December Release Date
Well, if this little piece of evidence is true, those of you hoping to get your Samsung Galaxy Nexus on November 21st are out of luck. Phandroid has stumbled upon an internal document that very clearly states that the Galaxy Nexus is going to be launching on December 8th which goes along with that rumor that stated that the launch was pushed into next month.
It also notes that accessories have been shipped to stores already, something we know to be true and that demo units are out in the wilds. Also true. That being said, it would appear that this might just be the actual date that we see this phone arrive.
Again, this is not optimal for those of you who have been waiting for weeks on end for this to arrive. However, we hope that the delay is due to the parties involved wanting to iron out the bugs.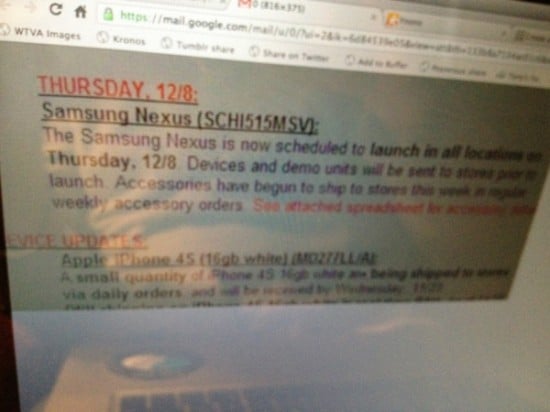 If that's the case, it's hard to fault them for pushing the launch back a few weeks.
So, December 8th folks, circle that one on your mental calender.

This article may contain affiliate links. Click here for more details.