Verizon Galaxy Nexus Launching December 15th at Costco?
December 15th is currently the target date for the release of Verizon's elusive Samsung Galaxy Nexus. We've heard that date from sources and others have been hearing the same thing. And guess what? More evidence supporting that date has mounted today as Engadget has acquired a pricing guide from Costco that lists the Galaxy Nexus release date on Verizon as December 15th.
Costco, of course, is not Verizon and that means that the device's release date could be different here then at the carrier's online or retail stores.
The retailer also lists the Galaxy Nexus has costing $290 which is actually $10 cheaper then the $299 price we heard about awhile back.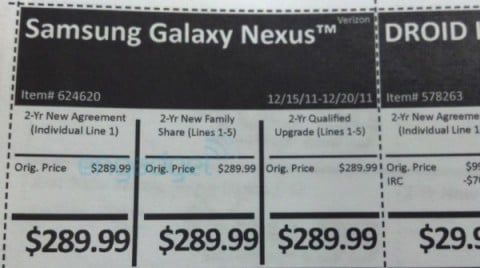 For the millionth time, this is by no means set in stone and it won't be until Verizon decides that it's time to make an official announcement. And if December 15th is actually the release date, we fully expect to hear from it tomorrow.
Keep those fingers crossed folks.
And in the meantime, check out these five things to do while you wait for the Galaxy Nexus to arrive.

As an Amazon Associate I earn from qualifying purchases.