Verizon Guy Dropped Like an AT&T Call, Verizon Shifts to Phone Ads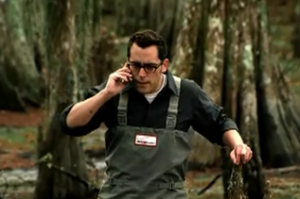 The "Can You Hear Me Now?" Verizon spokesperson has been dropped like an AT&T phone call in San Francisco, as Verizon goes in a new direction with phone and service ads. Paul Marcarelli's official character name was "Test Man", but you probably knew the horn rimmed glasses wearing fellow as the guy who braved any environment to ask if you could hear him now.
It has just come to light that Verizon let Marcarelli go in September, and though it will keep him around for a few special projects, don't expect to see the face of the Verizon network asking you anymore questions about coverage.
Paul Marcarelli has been the "Test Man", which is a position held by numerous Verizon employees that use much more advanced equipment to test the network, since 2002 when the following ad introduced him to a nation of frustrated cell phone owners. As Verizon grew their network and realized that it was the company's biggest asset the Test Man was introduced.
While Marcarelli is focusing on personal projects now, including a movie in consideration for film festivals around the world. Will he miss the role? Possibly, but given that he has had to put up with all of us saying, "Can you hear me now?", every time he ventured out in public, including from a family friend at his grandmother's funereal, our guess is that he will enjoy the break.
As for Verizon, it looks like the company is finally doing what I would have told them to do long ago, focusing on the features of phones. They still don't have the same "look at what our phone can do" ads that we see from Apple, but Verizon knows that we know their network is good.
https://youtu.be/A9h_Klwueks