Verizon Hints at Shared Data Plans
Verizon Wireless may be close to implementing a family or shared data plan, doing for data plans what wireless carriers are now doing for family voice minutes. Essentially, it is speculated that Verizon Wireless will soon offer a bucket of data, where consumers can choose on which device(s) they would want to consume that monthly data allotment, and data would be account-specific in the future and no longer device-specific.
A user had tried to obtain his/her data usage information by sending a request to #DATA and got an automated text message back showing data usage information. What's significant here is that Verizon appears to have separated usage between shared and individual usage, suggesting that the carrier is close to launching a shared data plan in the future.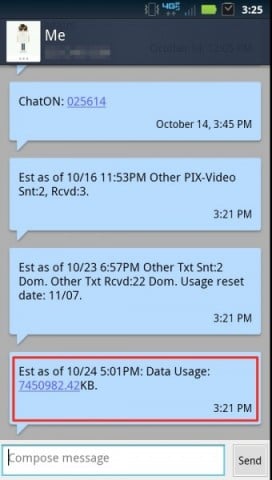 Shared data plans would make it more accessible for users to own and use multiple devices, including smartphones, tablets, and netbooks. Rather than maintaining separate data plans for each device, a shared data plan may also be more cost effective.
Verizon's plans to make data more device agnostic were first mentioned earlier in the year, but the carrier has remained silent about the idea since it was first announced.
Via: Droid-life

As an Amazon Associate I earn from qualifying purchases.