Verizon HTC One M9 Release: 5 Details Confirmed
Today the HTC One M9 release date for the United States has been confirmed after almost a month of waiting since the March 1st announcement. This morning HTC confirmed its availability online, and now all the major US carriers are detailing the release, pre-orders, and pricing. Including the Verizon HTC One M9 release.
On March 1st HTC took the stage at Mobile World Congress and announced its new device for 2015. The smartphone was leaked countless times before the reveal, so we knew everything about it when it debuted. However, it didn't get a same-day release like the One M8 last year, and instead we've been waiting for an actual date, until today.
Read: HTC One M9 Release Date Breakdown for the US
This morning we confirmed the unlocked HTC One M9 will be available starting tomorrow, March 27th at midnight from HTC.com, as well as pre-order pages going live from both T-Mobile and AT&T. Those all arrived this morning, and now Verizon has revealed many key details for potential buyers.
Today all the news we've been waiting for regarding the Galaxy S6 and HTC One M9 release dates have been released. Carriers are sharing everything buyers have been waiting to hear, and for those interested we have all the details below. AT&T and T-Mobile both made One M9 announcements, but Verizon was silent until late this afternoon.
Just like AT&T and T-Mobile, the Verizon HTC One M9 will be available starting on April 10th, and here's what you should know.
Verizon HTC One M9 Pre-Order
This morning Verizon confirmed everything you need to know about the HTC One M9 for its network. Unlike AT&T or T-Mobile, they won't start pre-orders tomorrow, and instead will be waiting a few extra days and will officially kick off the HTC One M9 release on April 1st. No, this isn't April fools.
Verizon HTC One M9 Pre-orders will start on April 1st, a few days later than other carriers, but we've yet to hear from Sprint. So far it appears that all carriers will offer the phone on April 10th, at least the major three mentioned here.
Verizon HTC One M9 Release Date
The HTC One M9 release date from Verizon Wirless will be April 10th. It will be available both online and in stores, as well as from select retailers around the US. Places like Walmart, Best Buy, Target and Costco and more. This is the same date as T-Mobile and AT&T, and possibly even Sprint, although they've yet to make an announcement.
Price
Just like almost everyone else, the Verizon HTC One M9 will cost $199 with a new 2-year agreement or $24.99 per month for 24 months on Verizon Edge. This comes with 32GB of storage and a micro-SD slot, and there's no other storage or color options to change the price, like you'd see with the iPhone 6. Outright and off-contract we can expect it to be $649 like T-Mobile, or maybe more, but Verizon didn't announce those details.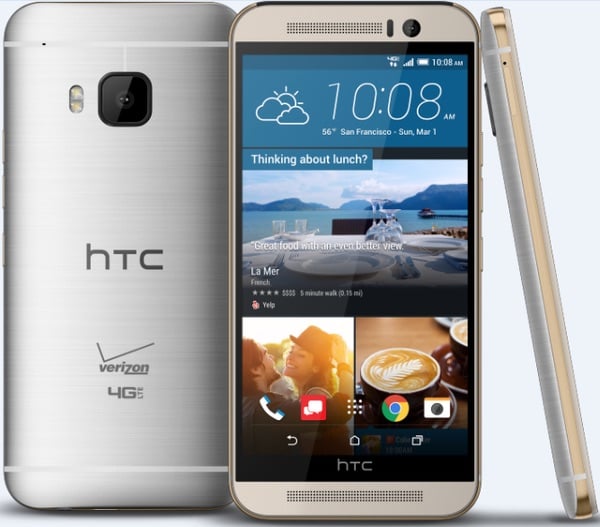 Color Options
The smartphone with its all-metal design will be available in both main colors announced by HTC, but not a few of the others we've heard since the announcement. Verizon will offer the two-tone Gold on Silver or Metal Gray color models at the price mentioned above.
Read: Android 5.0 vs Android 4.4 KitKat: What's New in Lollipop
More
As we all know, the HTC One M9 comes with a 5-inch 1080p HD display, a Snapdragon 810 processor with 3GB of RAM and 32GB of storage, a 20.7 megapixel rear and 4 Ultrapixel front camera setup. It runs with Android 5.0.2 Lollipop and a new Sense UI 7.0 interface full of changes. Users can enjoy an all metal design and long battery life with a bigger 2,840 mAh battery. This is bigger than the One M8 last year, and bigger than the Galaxy S6 battery, which is actually lower than the S5 from 2014.
Along with all the details above regarding the Verizon HTC One M9, users will also be happy to know it will launch with VoLTE (HD Voice) advanced calling 1.0 support, something that is on the Verizon Nexus 6, and coming soon to the DROID Turbo. Verizon will offer the Dot View 2 case for the HTC One M9 on April 1 for $49.99. The case will be available in Onyx Black or Candy Floss.
Then of course being an HTC One M9 means you'll be covered by HTC's new Uh-Oh device protection. This covers cracked screens, water damage, and they'll even replace your phone to another carrier version if you need to switch carriers. All within the first year. If you don't use Uh-Oh, you'll get $100 towards your next HTC One purchase. April 10th is the day for the HTC One M9, as well as the Galaxy S6 and Galaxy S6 Edge. Which smartphone will you choose?

As an Amazon Associate I earn from qualifying purchases.