Verizon HTC One Remix Arrives for $50
This morning, Verizon Wireless officially released and launched its newest smartphone, the HTC One Remix. With the Samsung Galaxy S5, HTC One M8, and LG G3 all being available at a high price, those looking for a more budget-friendly option should take a peek at the all-new HTC One Remix.
While most flagship smartphones are $199 with a new 2-year contract these days, the Verizon HTC One Remix aims to offer a similar excellent experience but for a much lower price point. How low? The HTC One Remix is only $50 with a new 2-year contract from Verizon.
Read: HTC One Mini 2 Official: Here's What You Need to Know
Verizon's new HTC One Remix isn't a replacement or successor to the original HTC One from 2013, and instead is essentially just a Mini HTC One M8. Being called the HTC One Mini 2 outside of the US, the Remix is Verizon's version of the smaller HTC One M8. Users will get the same stunning smartphone wrapped in an all aluminum design, dual-front facing speakers, and the latest Android 4.4 KitKat.
In case you forgot, earlier this year HTC announced the new Mini 2 smartphone after an array of leaks. Delivering a smaller variant of its flagship smartphone for those on a budget. That's what is available starting today, July 24th from Verizon Wireless.
The Verizon HTC One Remix is a 4.5-inch 720p HD smartphone that is powered by Android 4.4 KitKat and the new Sense UI 6.0 interface, as well as a 1.2 GHz quad-core Snapdragon 400 processor with 1.5GB of RAM and 16GB of internal storage. You'll enjoy a quality 13 megapixel camera (no dual camera setup like the HTC One M8) and a 5 megapixel front camera for excellent photos and selfies.
The HTC One Remix from Verizon Wireless has a large 2,100 mAh battery that should last all day, and again runs the latest Android 4.4 KitKat and the new Sense 6 UI. HTC Blinkfeed, Zoe, and all the other software enhancements compliment this brushed aluminum silver smartphone with front facing speakers and HTC Boomsound. There's no longer Beats Audio integration, but the front speakers should deliver quality sound for those enjoying music or catching some Netflix.
Read: HTC Advantage Review
Of course all new HTC smartphones also come with HTC Advantage, the free replacement service in case you drop your phone and break a screen, or some other unfortunate event occurs.
Again the all-new Verizon HTC One Remix is available starting today for just $50 with a new 2-year contract, or users can get it for only $22 a month for 20 months with Verizon's Edge monthly payment plan. It isn't a premium flagship smartphone like the LG G3 or upcoming iPhone 6, but for those wanting an excellent experience and the same great HTC hardware, the One Remix for $50 is a good option this summer.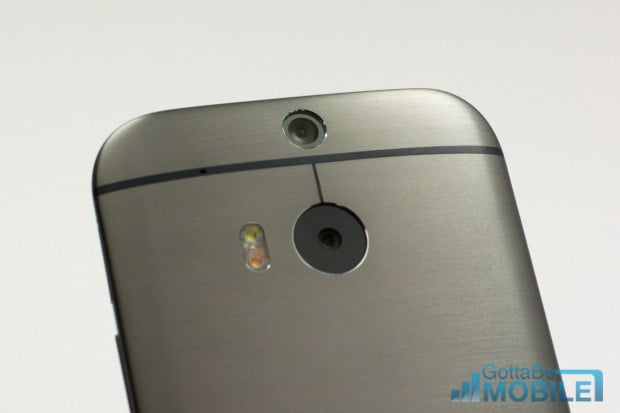 It's worth noting the bigger, more expensive HTC One M8 only has a 4 Ultrapixel camera with that dual-sensor for post processing and blur effects, so in theory the HTC One Remix 13 megapixel camera should produce much better photos, but won't have as many features on board. We'll be sure to get our hands on the HTC One Remix as soon as possible to test out HTC's new 13 megapixel camera and see how it stacks up against the LG G3 or Samsung's 16 megapixel Galaxy S5.
Head into a nearby Verizon store today and grab the One Remix in silver for $50, or head to their online store and reserve yours today.

As an Amazon Associate I earn from qualifying purchases.