The Verizon HTC One takes everything we love about the HTC One that arrived on AT&T, Sprint and T-Mobile earlier this year and brings it to the largest 4G LTE network in the U.S.
Savvy shoppers can buy the Verizon HTC One for as little as $50, which is a steal for such a high-quality device, and a better buy than most of the phones Verizon offers for $50 to $99.
We've used the HTC One for several months, and the Verizon HTC One for over a month, to make sure this version lives up to the hype and to the original.
Like the original, the Verizon HTC One earns a Gotta Be Mobile Editor's Choice thanks to the wonderful design, build quality and features that users can easily access and use to do more with the device.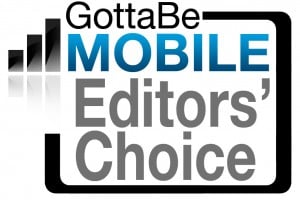 While the Samsung Galaxy S4 comes packed with a lot of features, we find the HTC One offers faster access to the features that matter, especially the camera features such as HTC Highlights option that makes creating quick compilations incredibly easy and the HTC Zoe feature that take 20 photos and a 3 second video with the push of a button.
Read: 15 Hidden HTC One Features
The Verizon HTC One is up against fierce competition from the iPhone 5s and the Samsung Galaxy S4, but it holds its own as one of the best smartphones you can buy.
Pros

Amazing Design with minimal branding
Very good battery life
Delivers great performance
Impressive sound thanks to BoomSound
Camera and Software features standout.

Cons

No expandable storage
No replaceable battery
HTC One | $199 | Verizon

Verizon HTC One Review Guide

Related Verizon HTC One Review Articles

Buy the Verizon HTC One
Verizon HTC One Video Review
Watch the Verizon HTC One video review to see what we think of the Verizon HTC One. Check out the rest of our HTC One videos further down to see what you can expect from the HTC Sense 5.
Verizon HTC One Design
The Verizon HTC One design is identical to the HTC One on other carriers, save the Verizon and 4G LTE logos on the back. While some may joke about Verizon's branding on devices like the Galaxy Note 2, this logo is minimal enough that we don't notice it after a day or two of use.
The Verizon HTC One is made of aluminum and a small amount of rubber to allow cell phone and WiFi signals to escape easier. The result is a very durable phone that looks and feels amazing.
The HTC One holds its own against the iPhone 5s in terms of look and build quality, and while I still use a case on my iPhone 5s most of the time I use the Verizon HTC One without a case, without a worry.
There is a small notification LED hidden in the top BoomSound speaker, which alerts users to incoming calls, emails and more. The notification is easy to see, but not as bright or obnoxious as some phones.
Verizon HTC One Display
The Verizon HTC One features a 4.7-inch 1080P HD delivers a great looking canvas for photos, apps, movies and text.
Like most of the high-resolution smartphone displays the pixel count is high, and in use photos and videos look very good on the display. The HTC One display offers bright white backgrounds and deep blacks. Reading eBooks and web text is very enjoyable on this display and movies look better than on the iPhone thanks to the larger size.
Side by side, the HTC One offers a screen that competes with the iPhone 5 and iPhone 5s, and beats it out for users who want a larger screen that is capable of delivering a more immersive viewing experience.
The Verizon HTC One earns a spot in my pocket when heading to the gym, as the larger screen is better for watching Breaking Bad while working out.
Verizon HTC One Performance
The Verizon HTC One delivers great performance thanks to a Qualcomm Snapdragon 600 processor which is the same as what we see in the Galaxy S4.
While it may not boast the same power as the upcoming Galaxy Note 3, or 64-bit processing like the iPhone 5s, make no mistake this phone is no slouch.
Playing games like Real Racing 3 and Riptide GP2 are smooth and look great with graphics you won't find on most of the other Verizon smartphones you can buy for as low as $50.
The Verizon HTC One comes with 4G LTE connectivity, which is available in more places than competitors, delivering fast connectivity in a beautiful package.
Switching between apps and using multitasking on the Verizon HTC One is very quick, so users can expect a fluid experience during daily use.
Verizon HTC One Battery Life
There is no removable battery on the Verizon HTC One so battery life is something users should pay attention to.
During a our time testing the HTC One, on 4G LTE and on  WiFi, the Verizon HTC One is able to last a full day of average usage with Gmail coming in, web browsing and the occasional phone call. The battery life dropped in fringe coverage, but that's expected.
Overall the average user will be able to last through busy days, a power user or those traveling may want to invest in a Mophie HTC One battery case.
Call Quality and Audio
Call quality on the Verizon HTC One is on par with other Verizon smartphones, slightly lower than what Motorola typically delivers but callers still sound good.
The BoomSound speakers are not just some HTC marketing term. The stereo front-facing speakers offer up crisp and loud sound that lead the pack in smartphone audio. When listening to music, the HTC One's front-facing speakers can't be beat by any other smartphone we've tested.
It's great to enjoy good sound from a smartphone without the need to cup hands around it or hold it just right. Other companies should take note, the HTC One listening and viewing experience is complete thanks to BoomSound.
Cameras
The Verizon HTC One uses the same 4MP Ultrapixel camera as the HTC One on other carriers, and delivers the same good low light performance and software features.
The HTC Zoe feature allows us to capture photos that other cameras might miss due to the fast changing facial expressions on kids and the quick movements of pets.
In addition to capturing photos well, the HTC One makes sharing a large number of photos and videos easy thanks to a built-in highlight feature that sets the photos and videos to music and automatically splices them together with filters for a fun, short and sharable clip.
This summer I used this feature to share a friend's small wedding with people who couldn't be there, condensing the ceremony and reception into 30 seconds instead of 10 minutes of video and 100 photos that would get much less attention on Facebook. Below are several HTC Zoe samples highlighting this feature.
Read: Samsung Galaxy S4 vs. HTC One vs. iPhone 5 Photo & Video Showdown
Don't be fooled by the 4MP camera spec, the larger pixels deliver great looking photos and videos as you can see in the samples below.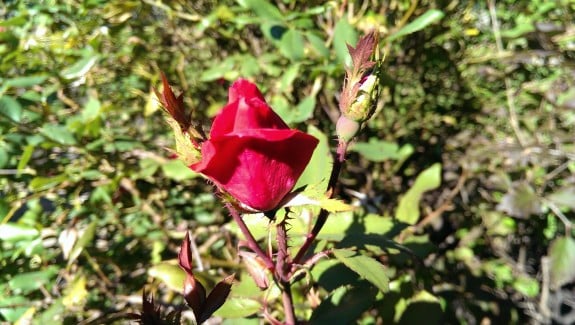 Software and Apps
The Verizon HTC One runs Android 4.2 with Sense 5, and HTC is reportedly preparing an Android 4.3 update for all versions of the HTC One.
With Android 4.2 users get fast access to control toggles in the notification center as well as a host of additional features that will deliver a better experience than phones running Android 4.1 and earlier.
HTC Sense 5 is a skin that sits n top of Android to deliver a different look. This includes new folder looks and s slightly different interface. HTC Sense 5 is easier on the eyes than versions that shipped on older devices like the HTC Thunderbolt. The video below highlights HTC Sense 5 on the HTC One.
One of the prime features is BlinkFeed, which brings the information you care about from news to social networks, right to the front screen when you unlock the HTC One. If you don't like this you can make it a secondary screen, but there is no way to turn it off completely.
The HTC One includes an IR port in the power button and a TV app that lets users control a TV, home theater and cable box from the phone. The software includes a screen that shows the shows you like, offering one tap access to watch them on your TV. You can program multiple rooms, so you always have a remote control handy. This works with almost any HDTV and components without buying any extra accessories.
Verizon includes a handful of Verizon apps that users cannot uninstall, but users can disable them, to hide the apps from the app drawer.
Is the Verizon HTC One Worth It?
The Verizon HTC One is one of the best smartphones on the market, pairing a sharp-looking design and great build quality with an excellent mix of software features that the average user will actually use on a daily or weekly basis.
Shoppers would be wise to compare the HTC One to the iPhone 5s and the Samsung Galaxy S4 in stores before buying, but with prices as low as $50 on contract it's tough to go wrong with the Verizon HTC One.
Verizon HTC One Gallery