Verizon iPhone 4 Superficially Similar, Internally Different from AT&T's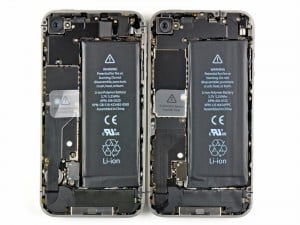 Verizon's CDMA Apple-made iPhone 4 may look nearly identical to its GSM cousin on AT&T and other carriers across the world, but the internal design and innards may be different from its globe-trotting counterpart on GSM/UMTS/EDGE/HSPA networks.
For one, it's curious that Apple used a global chipset from Qualcomm in the CDMA iPhone, similar to that of the world-phone enabled Droid Pro from Motorola. However, unlike Motorola, it seems that Apple did not enable the world-phone capabilities. As there isn't a SIM card slot, the CDMA iPhone 4 is tied to Verizon's network despite the fact that the Qualcomm chip would, at least from a hardware perspective, allow the phone to hop to a GSM network. For now, Apple's focused attention on CDMA leaves room for a world-phone iPhone 5 or a refreshed iPhone 4 down the road with global roaming capabilities. The move to release a world-phone variant a few short months after a CDMA-only variant is released would mirror Motorola's strategy with the Droid 2 launch–with Verizon, Motorola had debuted the CDMA-only Droid 2, followed by a special Star Wars R2D2 Droid 2, followed by a world-phone Droid 2 supporting CDMA and GSM networks. It's unclear what Verizon's and Apple's intentions are with a world-phone iPhone. With Verizon aggressively building out its LTE network, a 4G LTE iPhone 5 next year may be a high possibility as LTE delivers blazing fast download and upload speeds.
The Qualcomm chipset inside the CDMA iPhone 4 would support Verizon's CDMA/EV-DO Rev. A network in the U.S. and could potentially offer support for quad-band GSM/EDGE networks along with tri-band UMTS/HSPA support, like on the Droid 2 and Droid Pro.
Because of the Qualcomm chipset which could support both GSM and CDMA 3G world frequencies, the next iPhone, if it is released as a world phone, may only come in one design and variant, which could be software locked to either network. Moreover, a wold-phone iPhone would give Verizon's iPhone owners the ability to roam globally, a feature that AT&T users have enjoyed.
Another difference, according to iFixit, which did a tear down, is that the Verizon phone has a modified vibrator inside the phone:
Apple has removed the counterweighted vibrator motor in the corner of the phone and switched to a different vibrator design that's now placed near the battery connector.
Also, because the Verizon iPhone 4 has a modified stainless steel band, which has an extra cut, that serves as dual-purpose as an antenna, the fitting for the back glass panel is different and therefore the back panel between the AT&T iPhone 4 and the Verizon variant are not interchangeable.
The Verizon iPhone 4, because it is not a world phone, does not have a SIM card (micro SIM in the case of the GSM iPhone 4) nor a SIM tray. As a result, Apple says the CDMA iPhone has no user serviceable part(s).

As an Amazon Associate I earn from qualifying purchases.