Blockbuster iPhone 5s Deal Could Tempt iPhone 6 Buyers
A brand new Verizon iPhone 5s deal at Best Buy slashes the price to an incredible low, so low, that the iPhone 5s deal could be enough to lure in those waiting for the iPhone 6 release.
As we move deeper into 2014, we're starting to hear more and more about Apple's supposed plans for the iPhone. New iPhone rumors suggest that the company is working on at least one iPhone 6 variant, perhaps two, and that it will be out later on this year with a number of upgrades including a larger high resolution display, redesign and iOS 8.
Apple still isn't talking about the iPhone 6 release date but rumors suggest that it will land in the fall. iPhone 6 release date rumors point to an arrival in September though some believe that that date pertains to the rumored 4.7-inch iPhone 6. The larger 5.5-inch iPhone 6 model may not come until November.
One carrier is so sure of a September iPhone 6 release that it has begun telling its customers that it expects the iPhone 6 to arrive on September 19th, the third Friday in September, and a likely candidate for the iPhone 6 release.
While many prospective iPhone 6 buyers are willing to wait until September, we've talked to several that are growing impatient as new devices continue to emerge. And from the look of it, retailers can sense the blood in the water.
Best Buy joins RadioShack as the latest retailer to offer a blockbuster deal on the current iPhone, the iPhone 5s. For two days, Best Buy will be offering up the Verizon iPhone 5s for free, provided consumers scoop it up with a brand new two-year agreement. The deal only applies to the 16GB Verizon iPhone 5s, the model with the least amount of on board storage.
This is a deep discount from the device's usual $199.99 on-contract price tag and it's a tempting proposition for those that are currently looking at not only the iPhone 6 but other high-end smartphones as well.
Best Buy's two day sale also includes a sale on another top smartphone, the Samsung Galaxy S5. Those who trade-in any working smartphone will get the Verizon Galaxy S5 for free. The Galaxy S5, like the iPhone 5s, typically retails for $199.99 on-contract. Like the iPhone 5s sale, the Galaxy S5 offer is only available today and tomorrow.
The retail also will be selling the LG G2, LG's former flagship, for a $1 on-contract throughout the month of June. The LG G2, which will be replaced by the LG G3 this summer, is still one of the top smartphone options on the market and an extremely tempting Android smartphone. Here is how Best Buy's LG G2 sale will work:
The Sprint LG G2 offer will be available from June 1 – June 21
The Verizon LG G2 offer will be available from June 1 – June 31
The AT&T LG G2offer will be available from June 22 – June 28
Best Buy says that the LG G3 will be coming to its shelves sometime this summer though the retailer doesn't say exactly when it will be touching down. Sprint says that the LG G3 will arrive in July, several months ahead of the iPhone 6's expected release, though an exact date is out of reach for the moment.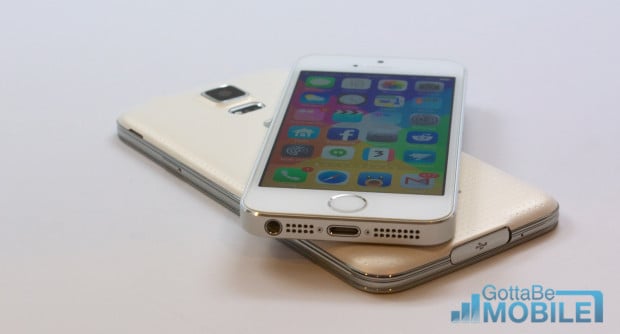 These iPhone 5s deals come as iPhone 6 rumors pick up ahead of Apple's WWDC 2014 conference in San Francisco. On Monday, Apple is expected to announce OS X 10.10 and iOS 8, the software that is expected to arrive alongside the iPhone 6 later this year. Again, iPhone 6 rumors point to an arrival in the fall, something that could be confirmed if Apple announces a release window for iOS 8.
It's still not clear how Apple's iPhone 5s will fit into the company's plans for 2014 though there are plenty of consumers that want a 4-inch iPhone option going forward.

As an Amazon Associate I earn from qualifying purchases.