Verizon iPhone Customers to Get Wi-Fi Calling
Following the other three major U.S. cell phone carriers (T-Mobile, AT&T, and Sprint), Verizon has started to take the necessary steps to offer Wi-Fi calling to customers who use Apple's iPhone.
While the United States' largest wireless carrier seems to be taking its sweet time in bringing the service to users, there's a lot of regulation behind it. Wi-Fi Calling doesn't currently support teletypewriter (TTY), a service that allows deaf and hard-of-hearing customers to communicate over the phone via written text.
Read: How to Use T-Mobile Wi-Fi Calling on the iPhone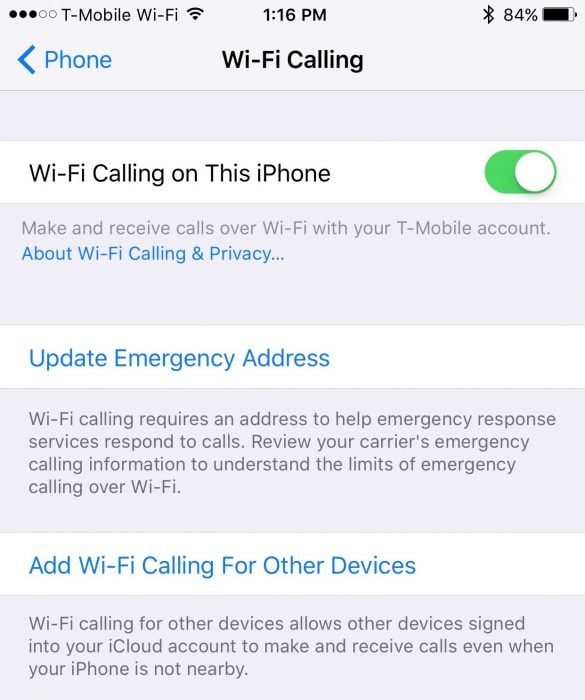 T-Mobile and Sprint forged ahead and enabled the iPhone's Wi-Fi Calling for their customers, ignoring the federal regulations requiring its support. AT&T, simultaneously unwilling to risk upsetting the federal government and let its competitors get away with such an advantage, petitioned the FCC for waiver to the regulation. This waiver allows the company to get away with offering cell service routed over Wi-Fi until the end of 2017.
After the commission invited other carriers to apply,Verizon has asked the FCC to grant them a similar waiver. Like AT&T, they plan to transition from TTY to a different standard known as real-time text (RTT). RTT transmits each letter as it's typed, allowing users to communicate – as you might expect – in real time. In granting the waiver to AT&T, the FCC noted that it was unclear whether carriers such as T-Mobile and Sprint were "in compliance" with the TTY regulations. "It would not be appropriate to grant a waiver to such entities without receiving further explanation from such entities about their current and future plans for meeting the accessibility needs of people with communications disabilities in an IP wireless environment."
Read: How to Turn on AT&T Wi-Fi Calling on iOS 9

Given Verizon's well-developed RTT plan, they are certain to be granted a waiver. T-Mobile and Sprint, however, might not be so lucky.
In the meantime, Verizon started offering it's own version of Wi-Fi calling (separate from iOS' built-in Wi-Fi Calling) via the Verizon Message+ iOS app on October 15th. While the lukewarm reviews indicate that customers aren't too happy, Verizon's app does allow iPad users to make and receive calls – something that the built-in iOS option doesn't.

This article may contain affiliate links. Click here for more details.