Verizon Jetpack 4G LTE MiFi 4620L First Impressions (Video)
The Verizon Jetpack 4G LTE MiFi 4620L is a new mobile hotspot that runs on Verizon's 4G LTE network and offers many reasons to upgrade from older MiFi hotspots.
We first caught a look at the MiFi Jetpack 4620L at CES 2012, and it's nice to finally go hands on with the improved 4G LTE MiFi and the extended battery.
While I've ditched my MiFi for the personal hotspot feature built into most smartphones, a dedicated 4G LTE MiFi makes a lot of sense for many users and offers a tempting experience.
Check out the Verizon MiFi Jetpack 4620L hands on video below to see why the latest MiFi is worth considering for an upgrade.
The MiFi 4620L allows up to 10 users to connect at once, so most users won't have to worry about hitting the limit, even if a family of four is on vacation with a car of gadgets. The standard battery is rated for 5-hours, while the extended battery claims 8-hours of battery life, something we'll be testing for our full MiFI 4620L review.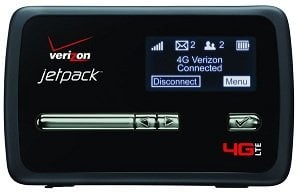 The biggest improvement to the MiFi series comes from Novatel Wireless' decision to add a display that shows what's happening. Anyone who's used a MiFi and tried to decode what the flashing green or red LED means, will understand why this is so important. While there is no way to change settings, the MiFi can show signal strength, battery life, connected users and even text messages sent to the device without plugging in to a computer. This is increasingly important as more users rely on iPads and other tablets. The menu can also show the current security key, making it easy to share the connection without remembering the passcode.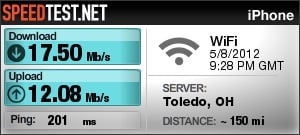 Unlike the MiFi 2200 that I used in the past, I can charge the Jetpack 4620L from any charger I have on hand. The earlier MiFI I owned was very picky about charging, which often led to a dead MiFi when I needed it the most. In my initial testing, the MiFi 4620L is reliable and holds signal better than the Samsung Galaxy Nexus. The hotspot function is also more reliable, as my Nexus would often need a restart after 30 to 60 minutes of tethering.
4G LTE is 10 times faster than 3G, with average speeds of 5 – 12 Mbps down and 2 – 5 Mbps up. During my short time with the unit I saw speeds of up to 17.09Mbps down and 12.8Mbps up, but thanks to pockets of poor coverage in my area also saw speeds bordering on 3G. This is a good reminder to check the 4G LTE coverage in your area and those you plan to travel to before buying a 4G LTE MiFi personal hotspot.
I'll be testing the battery life and 4G LTE speeds over the next week for our full MiFi 4620L review.
The Verizon Jetpack 4G LTE MiFi 4620L is available from Verizon for $49.99 with a 2-year contract of Free with a 2-year contract from Amazon.

As an Amazon Associate I earn from qualifying purchases.