Verizon Jetpack MHS291LVW with Killer Battery and Ten Connections
Verizon totally changed the conversation on Mi-Fi style devices with their new Verizon Jetpack MHS291LVW mobile Wi-Fi hotspot. It solves the problem of battery life that previous mobile hotspots had and connects up to ten devices to Verizon's fast 4G LTE network. Mobile hotspot users frustrated with their smartphone's built-in data sharing function should give the new Jetpack a serious look.
The Verizon Jetpack MHS291LVW looks (and feels) like a black hockey puck with red trim, but squashed into a rounded rectangular shape. On the top face we find a small display of useful status data and a configuration menu. Use the three hardware buttons along the right of the display to select on-screen buttons to change settings or view usage. The Verizon Jetpack MHS291LVW ($49.99 on contract, $229.99 online without) can receive text messages displayed on the screen. A red light lines the edges around the top. It lights up when the devices turns on or wakes.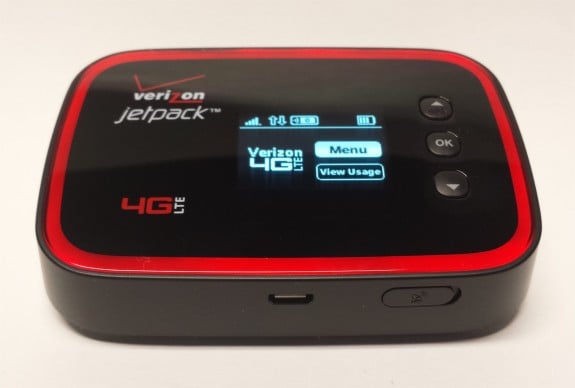 There's also a power button and external antenna connection on one side, with the micro-USB port on the other, used to charge the device or connect to a computer. A rubber cover with the manufacturer's name, Pantech, hides a 3.8V Li-ion Battery with up to 4040mAh of power. Our tests gave an average of 8-10 hours of life with heavy, almost constant usage.
The Verizon Jetpack MHS291LVW shines when it comes to battery life. Previous Mi-Fi and Jetpack models lasted 2-4 hours at best. Having a ten connection router with up to ten hours of battery life makes this thing a joy to use. We put away our smart phones because the Jetpack is easier to use. The iPhone and iPad forces us to open settings and toggle the hotspot feature built into iOS off and then on again. The Jetpack always connects as soon as we're in range. It also keeps us from draining the battery on our smartphones and tablets.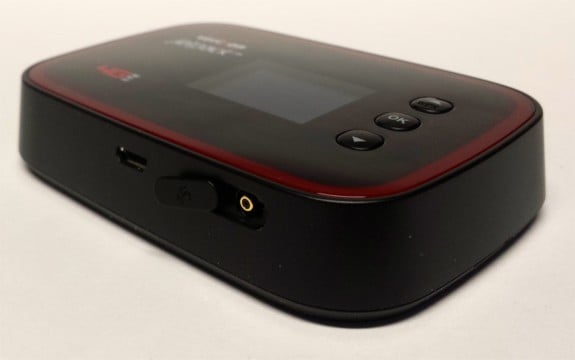 We took the Jetpack on a trip this month and found that it offered a solid connection, even in areas with weaker LTE signals. When LTE dropped out the 3G connection didn't work that well, but few devices offer a useful 3G connection these days. One hotel stay proved frustrating, but that's a fault of Verizon's network and not the Jetpack.
The Wi-Fi signal strength gave us the perfect balance between power and privacy. It didn't broadcast the signal too far, making it tempting for hackers in the same restaurant, hotel or near us on the road. Yet we could keep the device in the car as we stretched our legs at a rest stop.
The MH5391LVW from Verizon also lets users share data as they're connected. This makes any coffee shop, restaurant or car a makeshift office for up to ten users. We connected eight different devices and each still achieved decent speeds.
Streaming video over the Verizon Jetpack MHS291LVW worked like a charm. In fact, it worked so well we found ourselves doubling our 6GB data allotment in a week. Thankfully, Verizon let us temporarily bump our data allowance to 16GB retroactively for the first billing cycle so we wouldn't pay for overage fees.

As an Amazon Associate I earn from qualifying purchases.