Verizon LG G2 Android 4.4 KitKat Update Finally Arrives
The LG G2 Android 4.4 KitKat update release in the United States is finally arriving today for the last major carrier, and that's Verizon Wireless. After weeks of waiting and no details from LG or the carrier, the update is finally available today, although not through traditional means.
After LG promised an update before the end of March to Android 4.4 KitKat for the LG G2, we saw almost every major US carrier slowly issue updates throughout the end of February and the month of March, but Verizon was MIA.
Read: LG G2 Android 4.4.2 KitKat Update: What You Need to Know
The LG G2 Android 4.4 KitKat update started in February with AT&T, and eventually arrived for both Sprint and T-Mobile, and now Verizon users are finally getting the same treat. It isn't currently rolling out as an over-the-air update, but we're expecting that to arrive any day now. Instead, users can get KitKat right now for the LG G2 using the Verizon Software Upgrade Assistant PC software tool.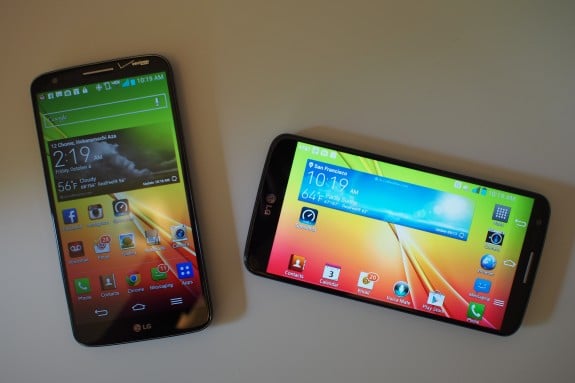 For whatever reason the Verizon LG G2 Android 4.4 KitKat update has been delayed almost an entire month, and even now that it's available it isn't rolling out in the method most updates arrive. Instead of getting a notification right on the device to easily download and install KitKat, users are finding the Verizon Software Upgrade Assistant tool had KitKat ready and waiting.
Multiple users over at the popular XDA Developers have confirmed this is indeed Android 4.4 KitKat for the LG G2 on Verizon, and have already installed it themselves. The software upgrade assistant tool is something most Verizon smartphones have, but many users don't even know about it.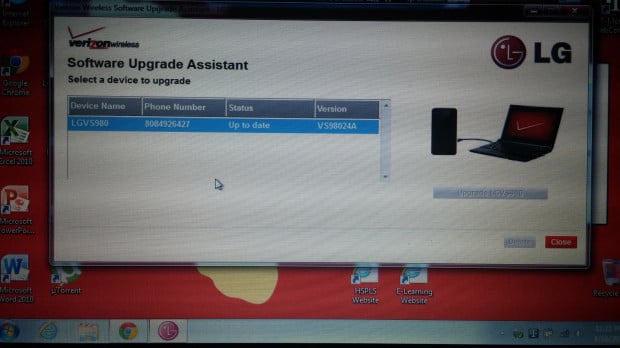 We've yet to hear any confirmation from Verizon Wireless about the LG G2 KitKat update, but it is clearly available now, and we're expecting the regular software update to commence sometime before the end of the week. For those who'd rather not wait and want it now, the process is fairly straightforward as you can see in the photo above.
Instructions
While we don't have the Verizon LG G2 here to confirm the exact steps, all Verizon smartphones have built-in software for easy manual software updates. Connect the LG G2 to a Windows PC and you'll be prompted by an auto-run window to install software from the device. This set of software includes the "Verizon Software Upgrade Assistant Tool"
Essentially users need to connect their LG G2 to a PC, follow the prompts to install the Verizon and LG software tools and drivers for the smartphone, then run the software upgrade assistant. This will check for updates, and install the latest Android 4.4.2 KitKat for the LG G2 on Verizon Wireless. Below is a screenshot from users at XDA Developers confirming the update.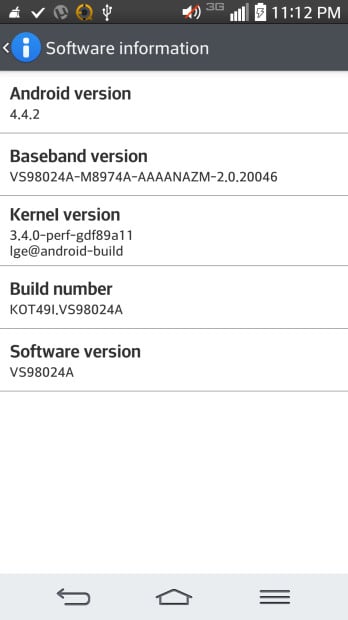 Verizon Wireless usually posts changelogs for each and every software update, but so far there's no additional details here for the LG G2. Again the update is currently only available through the upgrade tool, but we're expecting a standard over-the-air software update to arrive sometime this week.
What's New
The LG G2 Android 4.4 KitKat update has a host of new features, improved fonts and fullscreen support, emoji keyboard tweaks, and severely improved performance throughout the device. For those curious the changelog will likely be nearly the same as the AT&T LG G2 KitKat update, and for all other carriers. However, once we see the details from Verizon we will confirm the carrier specific tweaks or improvements that may be includes.
Earlier this year the LG G2 KitKat update arrived overseas, and LG released a quick software tour showing users what to expect, and just how much faster the device would perform. Below is a quick look at what all owners can expect once they update to Android 4.4 KitKat on the LG G2.
This video was provided by LG and mainly focuses on the faster performance of the device, but that isn't all owners can expect. Android 4.4.2 brings a smoother experience, fullscreen immersive mode where apps can use the full 5.2-inch LG G2 display, new white font, a better camera experience, and improved security.
Read: LG G3: 6 Things We Know So Far
This update is taking the LG G2 from Android 4.2 to Android 4.4.2 KitKat, skipping Android 4.3 entirely. This means owners will experience a noticeable improvement in performance.
LG G2 Android 4.4.3 Update
Lately there's been news circulating that Google is preparing to release Android 4.4.3 KitKat. First up will be the LG Nexus 5, but we can expect that update to quickly arrive for other Nexus and Google Play Edition devices, and then possibly for the LG G2.
That being said, with the Verizon LG G2 Android 4.4.2 KitKat update taking so long to finally arrive, there's no word on when we can actually expect Android 4.4.3 for the device, let alone from Verizon Wireless.
Most Android updates include key new features, software tweaks and performance updates, so we'll have to wait and see. For now though, LG G2 owners should focus on Android 4.4.2 KitKat which is now finally available for those on Verizon Wireless.

As an Amazon Associate I earn from qualifying purchases.