Verizon Lumia 735 Review: A Capable iPhone 6 Replacement
If you feel like you missed Microsoft revealing the Lumia 735, there's nothing wrong with you. Microsoft simply did a sub par job of keeping the hype about it alive.
The Lumia 735 isn't a beast like its direct Nokia-made predecessors were. It doesn't have a bigger screen than what's already on the market. It doesn't have a camera sensor stuffed with more megapixels than physics might allow at this point. Instead, the Lumia 735 is a mid-range smartphone available at a very spectacular price. The $79.99 Verizon Lumia 735 arrived on store shelves a few ago and I've used it ever since.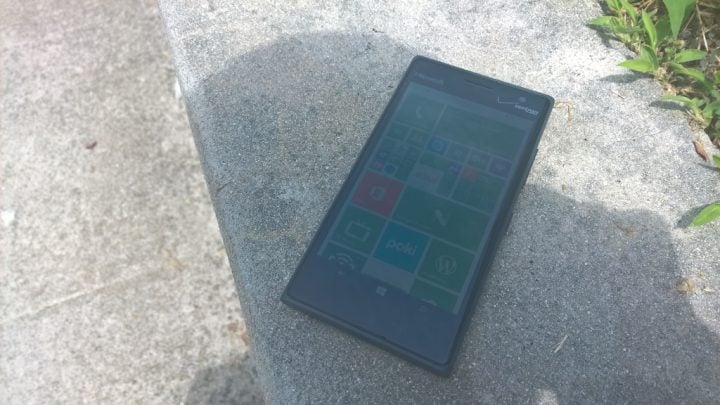 Verizon Lumia 735 Review – Design
The Verizon Lumia 735 only arrived on store shelves recently, but Microsoft shared news about the Lumia 735 at a press event last September. The design of the Verizon Lumia 735 is just as stealthy as its unorthodox release.
The Verizon Lumia 735 looks like a miniature Lumia 920. It's full of rounded edges and straight corners. Black polycarbonate plastic covers the back half of the Lumia 735. The top and bottom edges of the Lumia 735 are slightly pillowed so that they feel more comfortable in a single hand or palm. Located on the back is a single speaker, a single 6.7 megapixel rear-facing camera and a basic flash module for capturing better pictures in low-light situations. The left and right edges of the Lumia 735 elegantly curve into its sides.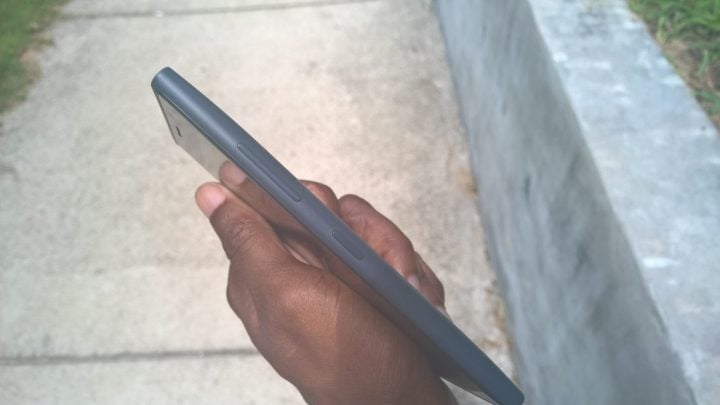 The left edge of the Lumia 735 holds nothing. It's a blank slate, making the device infinitely more useful with just a single hand. There's enough room on the right edge of the Lumia 735 for a power button and a volume rocker with plenty of travel. The Micro USB port sits on the bottom of the device, exactly where it belongs. Microsoft has still seen fit to leave the headset jack on the top edge. Neither the top nor the bottom of the Lumia 735 are curved, acting as a nice contrast to the lack of straight edges everywhere else.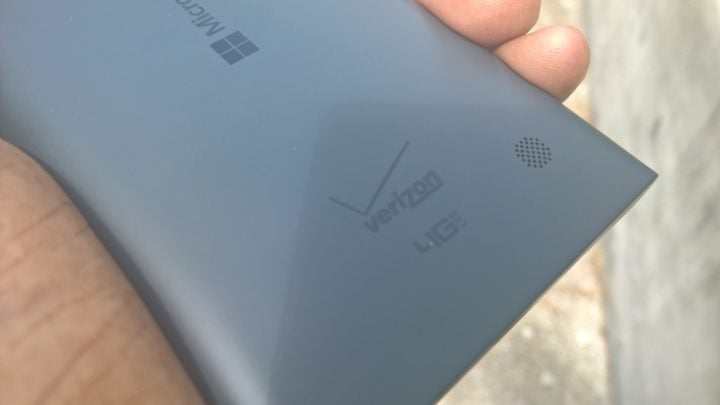 If you don't like the drab black you don't have to keep it. All of these ports are built into the Lumia 735's modular internal structure. With a bit of force you can push the body completely out of the gray shell and slip into one of the others available at Microsoft's website. Green, orange, white and blue are among the options available. Be warned that getting the covers off can sometimes be a chore.
The Lumia 735 smartly supports wireless charging with each shell, though users need to purchase a wireless charger if they don't already have one.
Verizon Lumia 735 Review – Internals
The Lumia 735 doesn't have completely amazing internals. In fact, Microsoft has been on a mid-range and low-range kick for roughly a year now. It's laser focused on competing with devices like the Motorola E and Motorola G. Company executives rightly believe that they can get some momentum if they offer a spectacular experience at a more reasonable price than the iPhone with or without a two-year contract.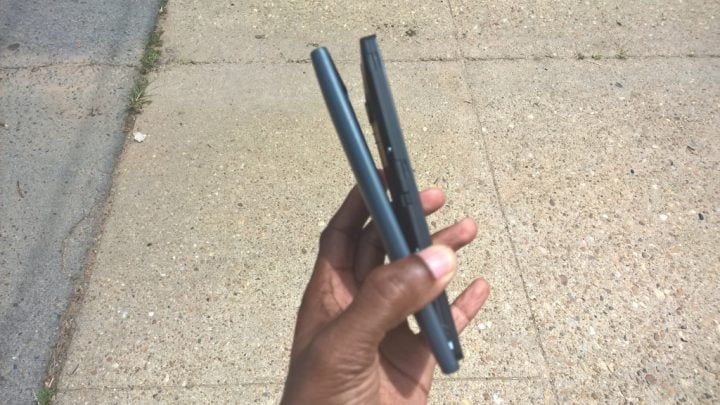 The Lumia 735 isn't as barebones as it could be internally. A 1.2GHz quad-core Snapdragon 400 processor powers the device along with 1GB of dedicated memory. Wi-Fi, LTE and HSPA+ technology are all built into the device, which isn't a given these days. Some smartphones dump 4G LTE connectivity to get to a low price. Sensors include a magnetometer, proximity sensors and accelerometer. All of those aren't a given either. Microsoft actually removes the light sensor in some smartphones its makes. Saving money this way forces users to manually adjust screen brightness like it's 2006 all over again.
Display
A 4.7-inch 720p display dominates the front of the Lumia 735. Though not as nice as the high-end screens we're seeing on paper, I was still impressed by it. Blacks are deep and colors pop. Microsoft lets users adjust the color temperature and brightness of the display. It's also capable of overpowering sunlight automatically outside. Speaking from personal experience, that's something you don't have an appreciation for until it's gone.
The Verizon Lumia 735 doesn't have physical buttons like other Windows Phones. Instead, Microsoft has embraced virtual buttons that users can simply slide away when they want a full-screen experience.
Camera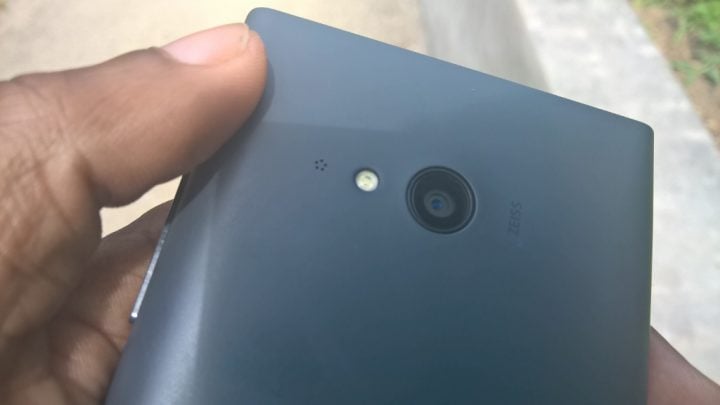 The Lumia Camera app is absolutely spectacular on any device. Pairing it with the Lumia's modest hardware had me worried for a bit. Then I spent the night taking photos at a recent games release and walked away impressed.
The 6.7 megapixel rear-facing sensor on the Lumia 735 is terrific in low-light situations, easily on par with some high-end devices. Making these pictures bigger won't do them any favors, but they're very acceptable for printing and sharing. Colors are dead on. Still there are some issues.
Windows Phone is well optimized for entry-level and mid-range hardware, but trying to take pictures and waiting for the Lumia 735 to do some of its post-processing in low-light was a bit painful. Also painful was Microsoft's decision to not have a physical camera button on this device. Other Lumia Windows Phones keep the button. Having it here would have made the camera experience even better than an entry-level iPhone I think.
Call Quality
Call quality and reception were terrific. The earpiece itself is clear, but not too loud. I didn't notice any problems with reception dropping as I handled the device in ways smartphone owners usually do either.
Verizon Lumia 735 Review – Software & Extras
Microsoft hasn't improved on the Windows Phone 8.1 experience much in the last year. The Lumia 735 does come packing the latest version of Windows Phone, which adds a more organized settings screen. That's good news because the original settings screen was a usability disaster.
Lumia Windows Phones come with exclusive apps. Lumia Storyteller lets you share your experiences online. Lumia Selfie is exactly what you think it is — a camera app dedicated to taking self-portraits and enhancing them with effects and zooming. Lumia Refocus lets you change the focus on the pictures you take after they've been taken. Lumia Beamer helps you get them on to a TV. Microsoft still hasn't managed to stuff these into something more palatable in a single package.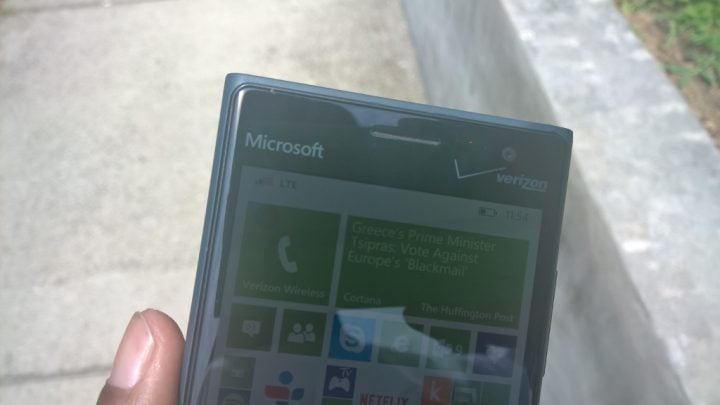 Read: Windows Phone 8.1 Review 
Verizon includes its own Navigator, Voice Mail and My Verizon Mobile apps. Software pack-ins also include NFL Mobile and Slacker Radio. They aren't too obtrusive, but that's besides the point. Unlike most Android devices, Windows Phone allows you to move pack-in apps with a few taps.
The app situation on Windows Phone has certainly stabilized. If you can't find an app for a social network or service, you can certainly download a third-party app that replaces it. YouTube and other Google apps remain noticeably absent. You can access most Google services using a third-party app though. Apps on Windows Phone do tend to be lack features compared to their iPhone and Android counterparts.
I only ever charge the Lumia 735 every other day. It can stay in standby for a month. Talk time is rated at 17 hours by Microsoft. 86 hours of music listening and 10.5 hours of web browsing help users pass the time until their next appointment.
Verizon Lumia 735 Review – Specifications
4.7-inch 2560 × 1440 Quantum-HD Display
4-core Snapdragon 400 Processor with 1GB of RAM
16GB  Internal storage (Micro-SD expansion)
6.7 Megapixel f1.9 camera with backside-illumination, 5 megapixel front camera
Microsoft Windows Phone 8.1
WiFi, Bluetooth, NFC, 4G LTE, FM Radio
2,220 mAh battery with wireless charging
Removable covers
Verizon Lumia 735 Review – Should You Buy?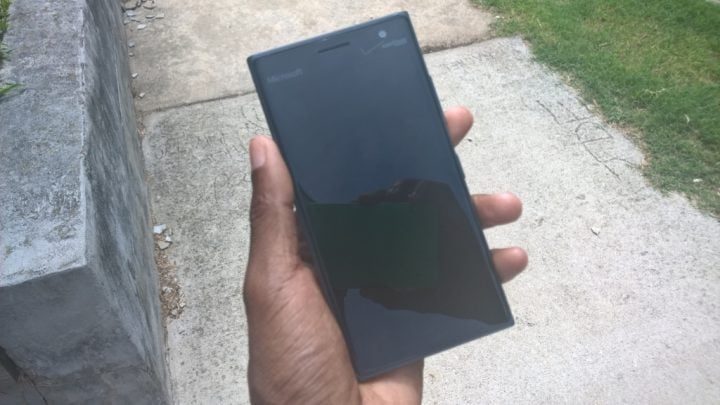 Without reservation, I can endorse buying the Lumia 735 as your long-term smartphone.
Microsoft compromised on the processor and RAM somewhat, leading to some performance issues when compared to beefier Windows Phones. There's no denying that. You'll catch the random stutter.
On the other hand, the camera is unexpectedly decent. Wireless charging and a very decent 720p display make it a great choice. Even better, the Lumia 735 is compact and perfectly fine for one-handed operation. Keeping nice to have extras like NFC support and MicroSD support was smart.
If you're looking for a Windows Phone and you're on Verizon without a contract, I'd say you couldn't spend $200 in a better way. If you're comfortable with a two-year contract the $79.99 price tag is a no-brainer.