Verizon Lumia Icon Windows Phone 8.1 Update Arrives
Microsoft's only self-made high-end Windows Phone is finally getting the software it needs to make it an iPhone alternative. After testing it for months, Verizon is finally rolling out the Lumia Icon Windows Phone 8.1 update to those who've already picked up the device.
Microsoft announced Verizon was releasing the Lumia Icon Windows Phone 8.1 update in a post on its Lumia Conversations blog early this morning. Windows Phone 8.1 is the software upgrade that Microsoft began rolling out last year on new devices. It also arrived on other Lumia Windows Phones as a free update around the same time.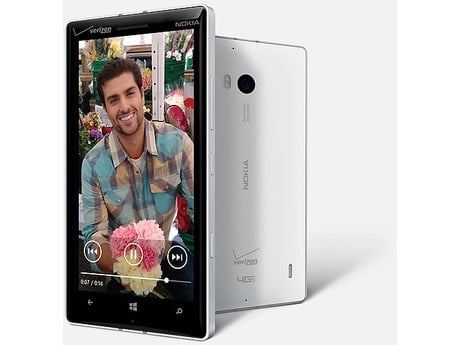 Read: Windows Phone 8.1 Review – It's An iPhone Killer, Almost
Windows Phone 8.1 first arrived to test in April of last year. Without the Windows Phone 8.1 update, the Lumia Icon was essentially running a version of Windows Phone 8. Microsoft released Windows Phone 8 back in the fall of 2012. For a supposed flagship, users were missing tons of changes and fixes that are now essential to the Windows Phone experience.
Customization was a huge part of the Windows Phone 8.1 upgrade. Today, Windows Phone users can choose a picture to stick in the background of their Live Tiles on the Start Screen. Additionally, there are new color options for Live Tiles to match Windows 8.1, Microsoft's notebook, desktop and tablet operating system. Changing your Live Tile color on Windows Phone 8.1 now alters the accent color on Windows 8 tablets and smartphones too. Internet Explorer tabs sync too.
Apple's Siri voice assistant and search tool showed millions of smartphone buyers how useful a voice-powered assistant could be. Cortana, is Microsoft's version of Siri and it's included in Windows Phone 8.1. Like Siri, Cortana can set reminders and perform searches. She also has a very conversational tone, something that Google's Now voice search doesn't. For example, Cortana will make jokes or answer basic questions I a snide way. Where Cortana differs is her Notebook and active learning. Cortana, like Google Now, learns user's habits and asks them for permission to store that information. She then uses that information to provide accurate directions, make sure they leave for their appointments on time, plus weather and news updates.
The are tons of tiny little changes included in Windows Phone 8.1 for the Lumia Icon that make it a more viable smartphone. Newer and more sophisticated camera software allows users to take a picture or capture video faster than they could before. That's important, because the Lumia Icon has a terrific 20 megapixel rear-facing camera that's bogged down by pretty slow software in Windows Phone 8. Windows Phone 8.1 has a refreshed camera experience and another update being bundled with today's Windows Phone 8.1 Update includes more camera fixes.
Microsoft says users are getting the Lumia Denim update on top of the Windows Phone 8.1 update. It's this software upgrade that allows users to turn on Cortana's always listening features. The new Lumia Camera software means that Lumia Icon owners can record 4K video. Lumia Denim features some pretty cool add-ons of its own. For example, Live Folders let users group related Live Tiles together. Alarms have their own custom Snooze Time in the Alarm app.
To get the Windows Phone 8.1 Lumia Icon update users should connect to a Wi-Fi network and go to the Settings app. From there, scroll down to find the Phone Update option. Microsoft slowly rolls out big updates like this so that it can isolate any bugs and issues. As such, users might not be eligible for the update when they check. Windows Phone checks for updates on its own too.