Verizon Moto G is a $99 Smartphone Worth Buying
Motorola's new and extremely impressive Moto G has already been released outside the US, and is available on Amazon and Motorola's own websites, but until today wasn't available on Verizon.
Earlier this week the first Verizon Moto G retail packaging leaked, and along with it came a report that the already budget friendly deal of a smartphone would be even cheaper. Being offered at Verizon and Best Buy locations for only $99, without a contract. While that was only a leak, today Best Buy confirmed to CNET the device indeed will run just $99, and will be available in stores the minute it arrives, which was yesterday for some locations.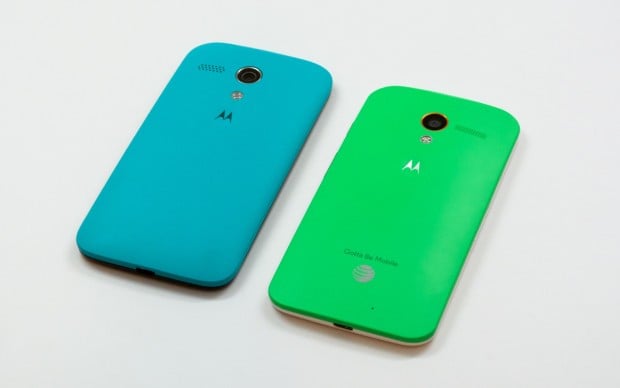 The Moto G is one of the best deals on a smartphone around at the $179 asking price by Motorola themselves, and now Verizon is making it even more of a steal by dropping it to $99. It isn't the biggest or fastest smartphone on the planet, but should be more than capable for years to come, is running the absolute latest version of Android made by Google, and now can be yours for $99 without signing a contract.
So what's the big deal here? It doesn't have 4G LTE, which is the only major issue, but you'll also only get a 4.5-inch 720p HD display. It's still crisp, but isn't 1080p for those sticklers, but for $99 you can't complain. It's powered by Android 4.4.2 KitKat and a quad-core Snapdragon 400 processor with 1GB of RAM, sports a mid-range 5 megapixel camera, and comes with 8GB of internal storage and a 2,070 mAh battery.
Read: Moto G Review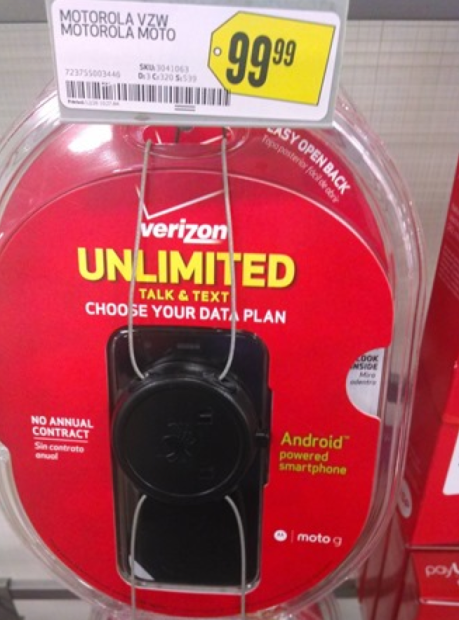 The image above, provided by AndroidPolice shows the new Moto G already on store shelves at Best Buy for the amazingly low price of just $99, which again, is an absolute steal. Verizon confirmed last month the company planned to offer the budget handset to prepaid customers in 2014, but no one expected it to arrive so early. Even Verizon confirmed this morning the release date is January 9th, so Best Buy is selling it ahead of schedule.
If you didn't get a new smartphone for Christmas over the holiday break, or still need to find a smartphone for the kids, the Moto G for $179 unlocked or $99 with Verizon is worth taking a look at. See our review above for more details.

As an Amazon Associate I earn from qualifying purchases.