Verizon Moto X Drops to $0.01 Ahead of Galaxy S5 Reveal
Motorola has been busy lately dropping discounts left and right for its flagship Moto X smartphone, and today we've learned of one more worth taking a look at.
While the company has been busy offering $70 off for the past few weeks, we've now learned those looking to snag a Moto X on Verizon can get the impressive smartphone for just a penny. Whether upcoming devices have anything to do with these sales isn't known, but with the Galaxy S5 set to be announced on Monday surely the competition is looking to squeeze out additional sales before consumers start looking for the next big thing.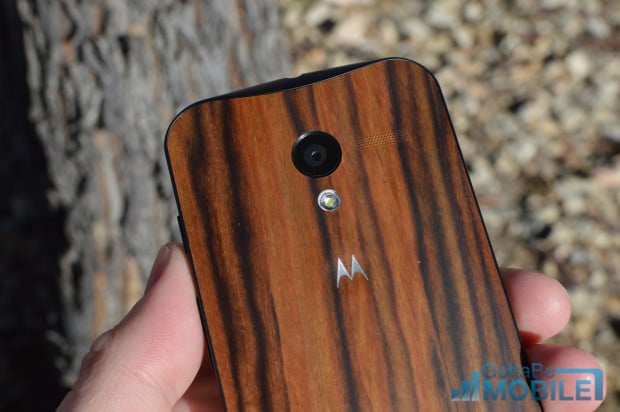 Samsung isn't the only one, as today the official announcement date for the new HTC M8 was also released, which is March 25th. The next month will be very revealing for what to expect from the Android competition, and before it all gets rolling Motorola wants to sell a few more smartphones.
Heading to MotoMaker.com where users can completely customize the Moto X, including a wood back, if you select a new 2-year contract from Verizon the phone goes from $99 (or $399 outright) down to just $0.01 instead. Yes, that's just one penny as long as you handcuff yourself to a new 2-year contract.
Read: Moto X in Walnut Wood Hands-On & Impressions
Just like the $70 off deal for buying the device outright, those looking to pick up a new Moto X from Verizon have until February 22nd, which is when we're hearing the price will go back to the original $99. If you're getting the phone for a penny, adding a custom Walnut or Bamboo wood back will only cost $25, making the entire purchase just $25.01 for a well-rounded and completely customized smartphone.
We haven't heard any rumblings yet about a new Moto X 2, but with HTC, Samsung and LG all preparing a new wave of devices for 2014, Motorola should be close behind. In the meantime, pickup a Moto X from Verizon for quite the discount, as long as you're okay with a new 2-year contract.

This article may contain affiliate links. Click here for more details.