Verizon Nexus 6 Android 5.1.1 Lollipop Update Arrives
Back in April Google released a new Android 5.1.1 Lollipop update for all Nexus smartphones and tablets, aimed at squashing a few more bugs and improving the Android Lollipop experience. This eventually arrived for the Nexus 6 and is now hitting regular devices like the Moto X or Galaxy S6. However, there are still some Nexus 6 owners stuck on older versions of Android.
It took until the end of May for Google to deliver the Nexus 6 Android 5.1.1 Lollipop update, after most older tablets received it first, and here we are in July and the Verizon Nexus 6 is still stuck on Android 5.1 and hasn't seen the latest release, until today.
Read: How to Install the Android M Beta Right Now
Google also recently announced the successor to Android 5.0 Lollipop, currently dubbed Android M, which many Nexus 6 owners can try right now using the link above. And while all the news and excitement is around Android M (Android 5.2 or Android 6.0) coming later this fall, many still have yet to receive the latest release. Today Verizon announced it's ready, and below are all the details.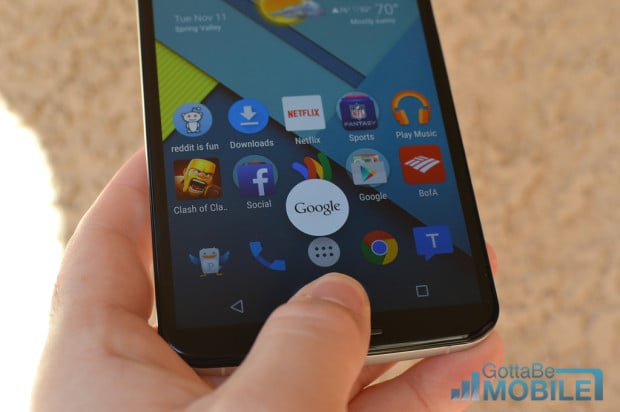 In late May Google released the latest Android 5.1.1 Lollipop update for the Nexus 6 on Sprint, T-Mobile, and US Cellular, and a few weeks later it arrived for AT&T. As expected, the Verizon Nexus 6 update never arrived. It's worth noting that the factory images on Google's site works with all variants of the Nexus 6, but these last updates have been exclusive to carriers, rather than one update for all handsets.
Yesterday though, nearly 90 days later than most other Nexus 6 smartphones, Verizon finally announced the Android 5.1.1 Lollipop update, and it should start rolling out today or over the weekend. This is three months later than the rest, which is something many Verizon owners have come to expect from the carrier, but better late than never.
Read: Android 5.1 vs Android 5.0 Lollipop: What's New
The update doesn't have anything major, but will indeed fix the famed memory leak issue that's been plaguing users on Lollipop. This is causing apps to freeze or crash, start to lag, and other problems. Nexus 6 owners will get improved performance, better battery life, bugs have been fixed and more, but there's no changelog available so far. All Verizon had to say was it brings "bug fixes & stability improvements".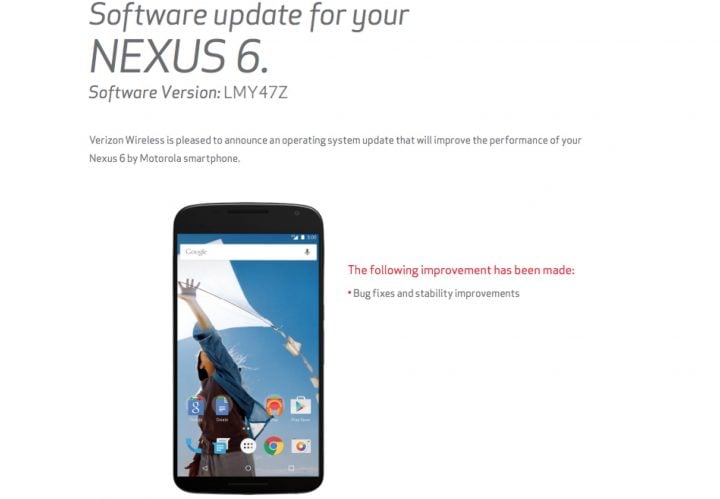 As you can see from the image above, the Verizon Nexus 6 Android 5.1.1 Lollipop update is build LMY47Z, which is the same Lollipop version and build# that was released back in May for the Sprint and US Cellular Nexus 6. This means that it's likely the exact same software that has been available for months, and is just now getting approval from Verizon.
This means that users can wait for the over the air update to arrive from Verizon and Google, or simply flash the factory image (which erases all data) using the Google Factory image that was released in May using these instructions.
Flashing custom software takes a little know-how, and will completely erase the Nexus 6 so we'd only recommend this for advanced users. For everyone else, head into settings > about phone > and tap check for updates to see if the Verizon Nexus 6 Android 5.1.1 Lollipop update is ready to download and install.
Typically once an update is approved by Verizon and posted online the over the air updates begin within 2-3 days. This means most users should see it arrive starting yesterday, and continue through the weekend and into next week at the latest. Again, the update to Android 5.1.1 is extremely minor, aimed at squashing a few bugs, and users won't notice much aside from better battery life and perhaps a more stable and smooth operating smartphone. It's certainly worth downloading, so accept it once it arrives and drop us a comment below if you experience any issues.