Verizon Nexus 6 Release: 5 Things You Need to Know
When it was first announced back in October Google confirmed the Nexus 6 was headed to all major US carriers, including Verizon Wireless. It was set to be the first Nexus smartphone offered by Verizon in years. Since October both sides have been silent, but over the past few weeks more details have surfaced, and today the Verizon Nexus 6 release is finally official, even if it isn't available yet.
Google's impressive Android 5.0 Lollipop powered Nexus 6 has been available in the United States since November after being unveiled as a device coming to all US carriers, but it is still unavailable on Verizon. A rumor in early January said it was coming in mid-February, and earlier this month a leak surfaced potentially revealing the Verizon Nexus 6 release date.
Read: Nexus 6 Review
As of today the Nexus 6 is available from Sprint, AT&T, T-Mobile and US Cellular, with the biggest carrier in the U.S. holding out. Verizon will also offer the Nexus 6, at least according to Google back in October, but absolutely no release date details have arrived. Earlier this month we received our first break, with Verizon adding the Nexus 6 to its website, and says it's coming soon. Today was supposed to be the release date, and below is everything you need to know about the Verizon Nexus 6 release.
At the beginning of February an image surfaced showing the Nexus 6 complete with Verizon's carrier branding, which was the first solid confirmation that the carrier was indeed going to release the phone. Shortly after that a leak showed the release date was set for February, but that's all we knew.
Fast forward to the past few weeks, and things are finally starting to take shape. We've seen Verizon add the device to their website, more photos has surfaced suggesting the release date, and now we have a video right from Verizon. Here's all the details.
Verizon Nexus 6 Release Date
A few weeks ago the Verizon Nexus 6 release date was officially revealed for the first time. However, that was a leaked image, and not an actual announcement. It stated the phone would arrive today, February 26th. Right on time as expected today Verizon Wireless released a video showing off the "Verizon Nexus 6" but the device is no where to be found, and now that video has been removed from YouTube.
The video went live earlier today, likely set to automatically go public once the device was released. However, Verizon made no announcements and carrier stores are confused. Some we called said it's available today but they don't have any, and another we called said the release date isn't yet here, and they don't have a date to give out.
At this point it looks like the Verizon Nexus 6 release date has been delayed, but at least we know it's real and coming soon. This brings us to our next topic, the new rumored release date.
Release Date Rumors
Today two different sources have reportedly "confirmed" the Verizon Nexus 6 release date. According to both Droid-Life and Phandroid, the Verizon Nexus 6 release date has been rescheduled to March 12th. This is over four months behind AT&T, T-Mobile, US Cellular and everyone else. We're not sure what the delay is about, but it's no secret that Google and Verizon haven't worked together well in the past. The Galaxy Nexus was the last Nexus on Verizon, and it never received updates on time, and was riddled with other issues, to say the least.
While we're not exactly sure what has been the cause of the delay with the Verizon Nexus 6 release date, we do have a few potential ideas. Some of which could be extremely important when the phone does get released. Multiple rumors have emerged today following the video that surfaced by Verizon themselves, and we're hearing a few interesting things.
Nexus 6 Android 5.1 Update
According to a few rumors that have surfaced today, the reason for Google and Verizon delaying the release of the Nexus 6 launch could possibly be because of software. Google launched the Nexus 6 with Android 5.0 Lollipop, but has since released Android 5.0.1 and 5.0.2 Lollipop. Currently the Nexus 6 is enjoying Android 5.0.1, while Android 5.0.2 has only arrived for a select few devices.
Verizon has a strict testing phase before allowing software updates, and this could be one of the many reasons for the delay in a release date from the carrier. However, today's news suggests that Verizon was initially planning to release the Nexus 6 today, but have instead pushed the release to March 12th in order to deliver the absolute latest Android 5.1 Lollipop update.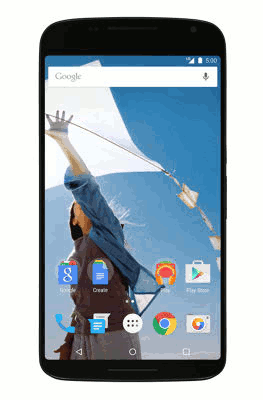 While Google has yet to officially announce Android 5.1 Lollipop, it's coming soon to fix a number of problems and issues plaguing the latest version of Android. HTC has recently stated it was coming in March, so today's rumors line up with previous statements, and all make sense. We can't be sure that March 12th is the Verizon Nexus 6 release date, or if it will arrive with Android 5.1 Lollipop on board, but that's the latest rumor.
Read: 80 Best Nexus 6 Apps
When the Verizon Nexus 6 finally gets released, unknown sources claim it will arrive with Android 5.1 which will support "Enhanced 4G LTE Mode" (Advanced Calling / VoLTE). An option a few devices on Verizon have recently received updates to. Most notably the Motorola DROID Turbo.
Specs
Of course the Verizon Nexus 6 won't be any different from other versions available today, except for the Verizon 4G LTE logo and the addition of VoLTE support. It will be the same device that's been available for months, and here's what to expect in case you aren't too familiar with it already.
Nexus 6 Specs

5.96-inch 2560 x 1440 Quad-HD Display
2.7 GHz Quad-Core Snapdragon 805 processor with 3GB of RAM
32GB/64GB internal storage
Android 5.0 Lollipop (could arrive with Android 5.1)
13 Megapixel camera with OIS, 2 MP front camera (4k video capture)
Dual Ring Flash
Dual Front-facing speakers
Aluminum frame for durability
Turbo Charger Support
3,220 mAh battery
Being four months old new devices for 2015 are coming soon. Competition from HTC and Samsung are both set to be announced on March 1st, so the delay could hurt Verizon Nexus 6 sales. That said, it's still an excellent device with top-tier specs and is a device worth considering in 2015.
Price
One of the most important aspects of the Verizon Nexus 6 release comes down to the price. The regular Nexus 6 sold from Motorola.com or the Google Play Store works on Verizon, it just needs a SIM card to work. However, not everyone can afford to buy a phone off contract.
The Nexus 6 is $649 for the 32GB model, and $699 for the 64GB option, and comes in Blue or Cloud White color options. However, carriers are also offering it with new 2-year contracts, and we're hearing the Verizon Nexus 6 will be $249 on contract, or $29.16 a month for 24 months with Verizon Edge.
The high price tag has lead many potential buyers to look elsewhere, or be stuck waiting for the Verizon Nexus 6 release date. However, it looks like those on a budget will soon be able to get the Verizon Nexus 6 for $30 a month, or for $249 with a new 2-year contract vs spending over $600 to buy it outright. This is great news for Verizon Wireless customers wanting the latest Google device.
All said and done, this is still all only rumors. Verizon did release a video today showing that the phone is available, but quickly removed it. So we know the Verizon Nexus 6 is coming, and coming soon, but we'll have to wait and see if the March 12th rumors are accurate, or if another delay pushes things back. Are you still waiting for the Nexus 6 on Verizon, and do you think it will come with Android 5.1? Let us know in the comments below.

As an Amazon Associate I earn from qualifying purchases.