Verizon Nexus 6 Release: New Details Emerge
Back in October Google confirmed its brand new smartphone, the Nexus 6, was headed to all major US carriers, including Verizon Wireless. It was set to be the first Nexus smartphone offered by Verizon in years. However, since then both sides have been completely silent, but over the past few weeks more details have surfaced, and this weekend some key details were once again leaked, and are now all but confirmed.
The Android 5.0 Lollipop powered Nexus 6 has been available in the United States since November after being unveiled as a device coming to all US carriers, but it is still unavailable on Verizon. Rumors in early January said it was coming in mid-February, and last month a leak surfaced potentially revealing the Verizon Nexus 6 release date. It could be here before the end of the week.
Read: Nexus 6 Review
As of right now the Nexus 6 is available from Sprint, AT&T, T-Mobile and US Cellular, with the biggest carrier in the U.S. holding out. At some point we know Verizon will carry the Nexus 6, and now we've learned it should arrive March 12, and come with a major surprise or two.
Earlier this month we received our first break, with Verizon adding the Nexus 6 to its website, and says it's coming soon. The release date was initially rumored for late February and even confirmed by some advertising material, but that never happened. However, this weekend tons of additional information surfaced suggesting the March 12th release date, Android 5.1 Lollipop, and more.
This weekend one user over on Reddit revealed some key information about the Verizon Nexus 6 release date. His image, posted below, states the Nexus 6 will hit Verizon on March 12th, this Thursday, and then be available in all stores mid next week.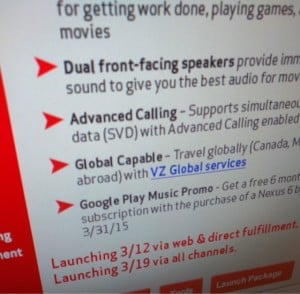 According to his image the Verizon Nexus 6 release date is March 12th online and from direct fulfillment, and retail stores will offer it starting March 19th in all channels. Those being Verizon stores nationwide, Best Buy, and other retail locations. This mirrors earlier reports, and appears to be a lock. That said, things are always subject to change.
That isn't all we learned this weekend either. And another leak from Phandroid is potentially giving us some telling information that buyers have been waiting for. Those being the Verizon Nexus 6 release date, price, and a big surprise being that it will launch with the latest Android 5.1 Lollipop update. Something that Google themselves have yet to announce.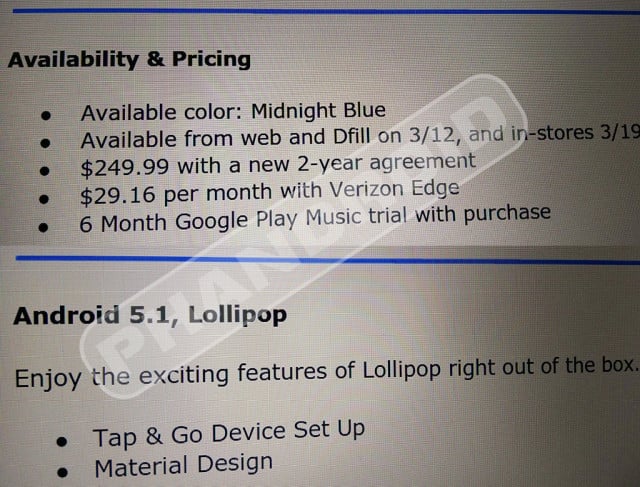 The photo above hasn't been confirmed, but according to their sources is accurate information about the Verizon Nexus 6 release. It again states March 12th, with a $249 on contract price or $29 monthly payments with Verizon Edge for 24 months, and six months of free Google Play Music All Access with a purchase. Then the last part is the exciting bit, which is Android 5.1 Lollipop. An update millions of Nexus and Android users are waiting for that should fix multiple problems plaguing the initial Android 5.0 release.
So far we've only seen small bits of news surrounding the Android 5.1 Lollipop update, but we've heard a mid-March release of Android 5.1 from multiple sources, including HTC themselves. At this point we're not sure when regular Nexus 6 (or other Nexus) owners will receive Android 5.1 Lollipop, but if it is set to be released on March 12th on the Verizon Nexus 6, we're expecting the update to be announced this week by Google.
As a reminder the Nexus 6 comes with a 5.96-inch 2560 x 1440 Quad-HD display, a powerful quad-core processor with 3GB of RAM, 32 or 64GB of internal storage, and a new 13 megapixel camera. The phone features a large 3,220 mAh battery, Turbo Charging, and more, and will be the same device offered for months from other carriers, only with Verizon branding and a few added apps from Verizon themselves.
It appears that Verizon will only offer the 32GB Midnight Blue option, but we'll have to wait until Verizon confirms the details themselves. Expect more details about the Verizon Nexus 6 release to emerge in the coming days.

As an Amazon Associate I earn from qualifying purchases.