Verizon Offers Credit for Old Smartphones and Tablets, But Don't Expect Much
The gadget world has no shortage of ways to trade in old gadgets for money. There are online services like Gazelle, EcosQuid, and NextWorth, along with similar options in some retail stores. Verizon has announced it will offer a similar trade in service within its own stores, offering up to $300 per smartphone or tablet.
The new service from Verizon will take your old phone and give you credit to use towards anything Verizon sells, including towards a Verizon bill. This new trade in program is separate from the Verizon Hopeline program which has run for many years and will continue to run alongside the new in store trade in service.
Verizon recycles your old phone through environmentally friendly channels, so you can rest assured that the old phone won't end up in a landfill, messing with the environment like most old phones.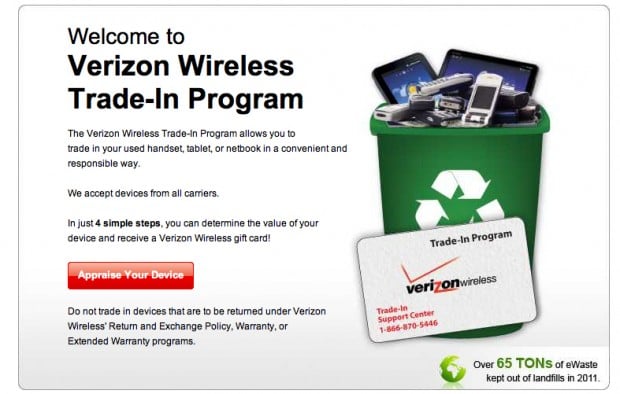 The only problem with the service is that Verizon offers less than other services. According to Verizon's price calculator, it will offer only $181 for a 32Gb iPad 2 with WiFi, while Gazelle offers $270 for the same model in good condition and $310 if it's in perfect condition. For the Samsung Galaxy Nexus Verizon will give you $140, while Gazelle will offer up to $273 for the Verizon LTE version.
Simply put, Verizon's offering seems like a rip off. Verizon is selling the convenience of selling the phone in store as opposed to shipping it off somewhere. Verizon won't even let you spend the money anywhere you like, forcing you to spend it in the store instead of giving you cash or a choice of gift cards.
If you don't want to sell your phone to Verizon, you can donate it to Verizon's HopeLine, which gives the phones to victims of domestic abuse. As Verizon puts it, those phones will then be used to help to give "a reliable, safe connection to employers, family and friends as survivors rebuild their lives."