Verizon Planning Rugged Casio G'zOne Commando Successor Wit 4G LTE
On the heels of Samsung announcing its waterproof Galaxy S4 Active Android smartphone with premium specs, there is news that Verizon may be considering a successor the the rugged Casio G'zOne Commando smartphone, but this time with 4G LTE access. While the Galaxy S4 Active is great for consumer use in and around the pool, the G'zOne should be more rugged and durable, boasting military-tested specs for being waterproof, dustproof, and drop-proof.
The phone, which based on the leaked image posted by @evleaks on Twitter, looks a lot like the G'zOne Type L smartphone that's currently being offered in Japan. If that's the case, the device will have a 4-inch WVGA resolution touchscreen, which will pale in comparison to the 5-inch full HD 1080p resolution LCD panel on Samsung's Galaxy S4 Active.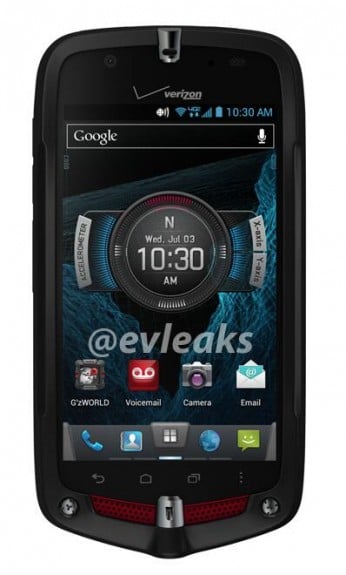 The Verizon model is rumored to come with support for NFC, which could be used for sharing information between two NFC-equipped devices, and a Snapdragon S4 Plus processor, according to a report on Engadget.
Given these specs, the G'zOne 4G LTE model won't be turning any heads with its specs. The phone, however, does benefit from a rather attractive rugged design that kind of reminds me of Dell's Alienware gaming PCs.
It's unclear when the device will get announced by Verizon, but given that summer is quickly coming a release sooner than later may benefit beachcombers and poolside visitors. Those with active lifestyles and afraid of dropping their smartphones may be able to use the G'zOne 4G LTE without a case on even.