Verizon Pushes Back Motorola Droid Pro Launch In Favor of Droid 2 Global?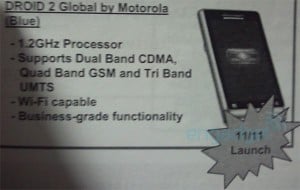 It seems that Verizon Wireless is pushing back the launch date of the Motorola Droid Pro, a business-class smartphone that's touted as a BlackBerry competitor running the Android operating system and combines the best of a touchscreen and full front-facing QWERTY keyboard, in favor of pushing out the Droid 2 Global. Both the Droid Pro and the Droid 2 Global are global phones, meaning that they support Verizon Wireless's EV-DO/CDMA network while in the U.S. and can roam onto a GSM/HSPA network while traveling overseas. The Droid 2 Global is slated to launch on November 11th for $199 according to a leaked internal document, and Engadget reveals that the Droid Pro's launch will be pushed to November 18th.
The November 18th launch date would definitely be a delay as Motorola had said at the announcement of the Droid Pro that the device would be available at the beginning of November. However, the late launch isn't all bad news as Engadget is saying that the device may retail for $180 with a $100 mail-in rebate and on a two-year contract, which would be $20 less than what had been anticipated for a high-end Android device.
While at CTIA last month, I got a chance to play with the Droid Pro for sometime, and the keyboard is very BlackBerry-ish. I really appreciated the auto-correction feature on the hardware side, and the keyboard is very good, although it did feel a bit more "mushy" and soft compared to the BlackBerry Tour or Bold keyboard that the device will compete against. You can see my video of the Droid Pro below.
The Samsung Continuum will also be joining Verizon Wireless's Android lineup. The device is expected to be part of the Samsung Galaxy S lineup, of which Verizon Wireless is already offering the 4-inch Super AMOLED Samsung Fascinate. However, unlike the Fascinate, the Continuum is expected to have a slightly smaller main display and also sport a smaller secondary display that will serve as a ticker for quick information access to news, weather, emails, notifications, and alerts. Hopefully, developers will be able to tap into the ticker and create compelling widgets for that secondary screen.
Regarding the Droid 2 Global, that device will have a slightly faster processor than the Droid 2 that it replaces, clocking in at 1.2 GHz rather than 1 GHz, and will be available in both blue, and probably a shade of white in the future. Currently, the Droid 2 is available in a dark blue hue and a special R2D2 edition of the Droid 2 is available in white with Star Wars etching.
Not all is bad news with the

This article may contain affiliate links. Click here for more details.