Verizon Quietly Updating HTC Rezound for Global Roaming
It appears that Verizon Wireless is quietly rolling out a software update patch for the HTC Rezound to enable global GSM roaming. The update clocks in at 103.7 MB and is appearing on several users' phones at this time. It appears that this update activates the hidden GSM chipset on the phone to allow the device to roam onto GSM/EDGE/UMTS/HSPA networks worldwide, expanding the capabilities of the smartphone for world travelers and business users.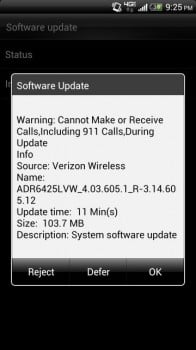 At this time, according to Phandroid, it appears that the update brings the software version up to 4.03.605.1. The update doesn't seem to impact the revision numbers for Android Ice Cream Sandwich 4.0.3 nor for the HTC Sense 3.6 software that's on the phone.
The feature was long rumored to be included in the HTC Rezound's upgrade package that brought the phone up to Ice Cream Sandwich. However, Verizon Wireless and HTC did not bundle the GSM roaming activation with ICS and now it appears that this separate software patch is being rolled out slowly to devices.