Verizon Rep: 3G Customers Can Upgrade to 4G after July 7th And Keep Unlimited Data
July 7th is fast approaching and there are obviously still some questions out there about then new data plans that Verizon plans to introduce that day. One of those questions, proposed by current 3G device owners, seems to have been answered by Verizon support. If the rep read the question correctly then it seems 3g owners will in fact be able to update to 4G after July 7th and keep unlimited data.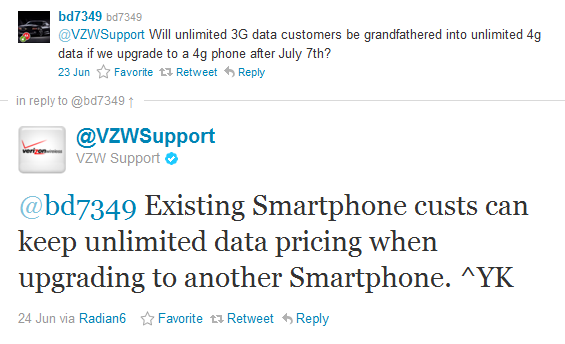 If this is the case, this is a pretty big win for those with 3G smartphones who had been worried about Verizon possibly making them move to tiered data when shifting to a 4G device in the future. And while this is extremely nice, it's not too surprising considering both 3G and 4G plans are shaping up to be the same.
Now again, this doesn't come in the form of official documentation. It's a tweet from a customer service rep to someone asking a question. That of course leaves Verizon wiggle room and 3G owners open to disappointment so don't get too excited just yet.
A Motorola Droid Bionic with unlimited 4G data sounds pretty nice though, doesn't it?
Via: Droid-Life