Verizon Samsung Galaxy Tab Update Begins to Roll Out
If you own a Samsung Galaxy Tab on Verizon today is your lucky day because Big Red has started rolling out a decently sized update that will bring all sorts of improvements to the software.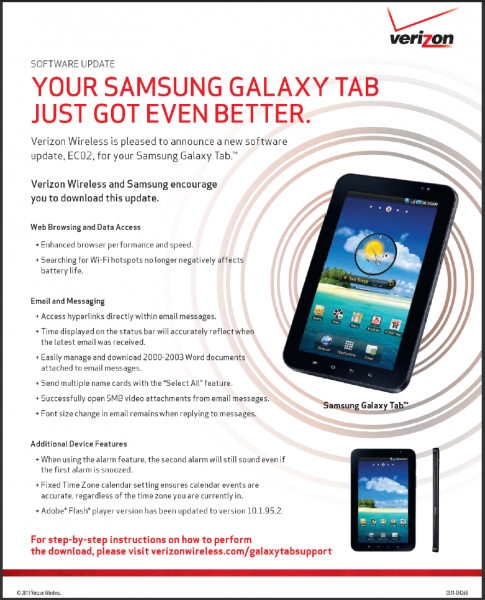 A full list of the update's features came out last week and Verizon Galaxy Tab owners will see these improvements once the software is installed:
Web Browsing and Data Access
+Enhanced browser performance and speed.
+Searching for Wi-Fi hotspots no longer negatively affects battery life.
Email and Messaging
+Access hyperlinks directly within email messages.
+Time displayed on the status bar will accurately reflect when the latest email was received.
+Easily manage and download 2000-2003 Word documents attached to email messages.
+Send multiple name cards with the "Select All" feature.
+Successfully open 5MB video attachments from email messages.
+Font size change in email remains when replying to messages.
Additional Device Features
+When using the alarm feature the second alarm will still sound even if the firs t alarm is snoozed.
+Fixed Time Zone calendar setting ensures calendar events are accurate regardless of the time zone you are currently in.
+Adobe" Flash'" player version has been updated to version 10.1.95.2.
It's no Honeycomb but it's certainly not a bad haul. The update is 34.6MB and should be a quick and easy install.
Sprint and Verizon recently dropped the price of the Samsung Galaxy Tab to a mere $200 on-contract in the wake of the Samsung Galaxy Tab 8.9 and 10.1 announcements at CTIA.
Samsung's Wi-Fi only Galaxy Tab went on sale 2 days ago for $350.
(Via Droid-Life)

This article may contain affiliate links. Click here for more details.