Verizon Sold 260,000 HTC Thunderbolts in First Two Weeks
Verizon released unit sales numbers as part of its first quarter financial report. The company sold 260,000 HTC Thunderbolts in just two weeks. Verizon's sold 500,000 4G devices in total, with the remainder of that number being 4G USB modems and wireless hotspots.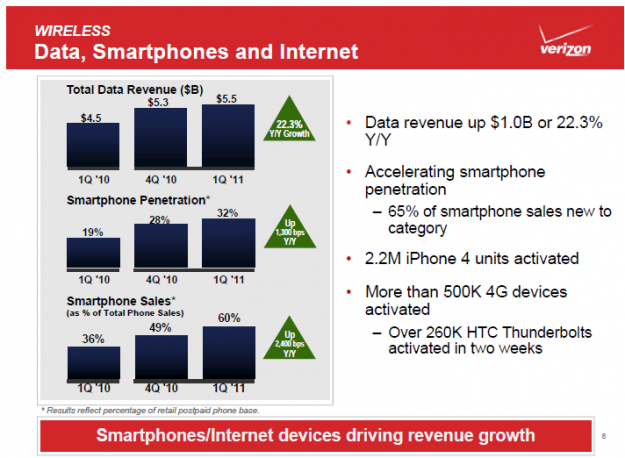 By comparison, Verizon sold 2.2 million iPhones during the first quarter of the year. There's no question that the iPhone 4 is much more popular than the HTC Thunderbolt on Verizon's network, but keep in mind that the iPhone 4 was on sale for about eight weeks of the quarter. Verizon sold approximately a million iPhones within the first month of launching the device on its 3G network.
The HTC Thunderbolt is the first 4G LTE phone on Verizon's network, but there are a slew of Android smartphones to choose from.
The HTC Thunderbolt is very similar to the HTC EVO 4G, a device that launched on Sprint's network a year ago. The HTC Thunderbolt is the fastest smartphone we've tested and the one that a few GBM contributors have chosen to buy.
The speed of the Verizon 4G LTE network is one reason a lot of people are choosing the HTC Thunderbolt. Here's a demonstration of the HTC Thunderbolt running a Speedtest.net test in San Francisco.
Here's an iPhone 4 on AT&T's 3G network running the same test. This is actually pretty quick for AT&T 3G, which is much faster than Verizon's 3G network in many areas, but much, much slower than Verizon's 4G network.
chart via ZDNET

As an Amazon Associate I earn from qualifying purchases.