Verizon to Launch Limited Edition Galaxy S4 Accessories?
Verizon Wireless may be launching some limited edition cases and accessories for Samsung's flagship and popular Galaxy S4 smartphone. The accessories may be the latest bid by Verizon to offer its customers more choices and an option to customize their devices. This would be great news as given the popularity of the Galaxy S4, it could help Verizon and consumers. For the carrier, it could be a great marketing opportunity while for consumers this would allow users to have a popular device that everyone wants or has, but also make it stand out as well.
Though the accessories are still not confirmed, famed leakster @evleaks revealed on Twitter revealed on Twitter a screenshot of what Verizon may be planning to help users customize their devices. The carrier says that the Galaxy S4, on its expansive 4G LTE network, is a "phone that's as limited edition as you are."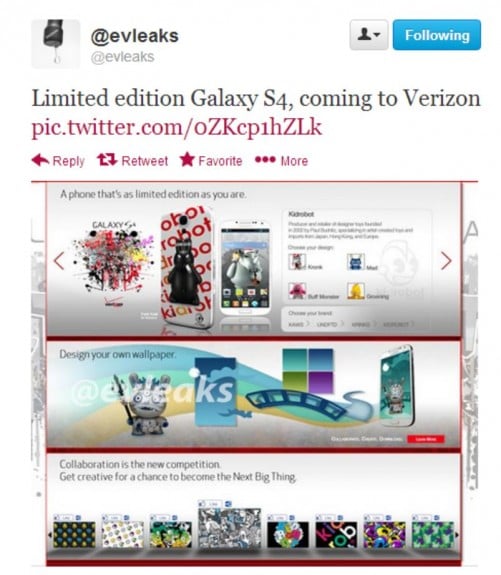 In the screenshot, a Galaxy S4 was shown with what appears to be either a skin or case with designs made by Kidrobot. The hardware accessory would also be matched with a custom designed wallpaper.
Verizon says that users can "design your own wallpaper," so it's unclear if this means that the wallpaper would be made from selections that complement the Kidrobot accessories, or if this means that users can simply change the wallpaper on their phones to a picture of their choice, a feature that's long been standard on the Android operating system.
Pricing for the Kidrobot hardware accessories were not revealed, and it's also unclear when the accessory option will land on Verizon.