Verizon to Start Tracking Your Mobile Information, Here's How to Stop It
Look out Verizon customers, it looks like the carrier has begun sending out emails to customers over the last couple of days informing them that privacy policy changes are on the way. At the heart of this change is Big Red's plan to start tracking mobile information from those who are using device's on its network.
In the email, Big Red says that it plans to start tracking things like URL's you have visited, apps that you fiddle with, the location of you and your device.
In addition to all of those, Verizon also plans to take a look at:
1. Information about your use of Verizon products and services (such as data and calling features, device type, and amount
of use).
2. Demographic and interest categories provided to us by other companies, such as gender, age range, sports fan, frequent diner, or pet owner.
You can read about the policy changes here if you didn't get an email.
What is it going to do with the information that it collects? Well, it plans to use said information to create business and marketing reports, for other companies to create business and marketing reports, and to better mobile advertisements so they are more 'relevant'.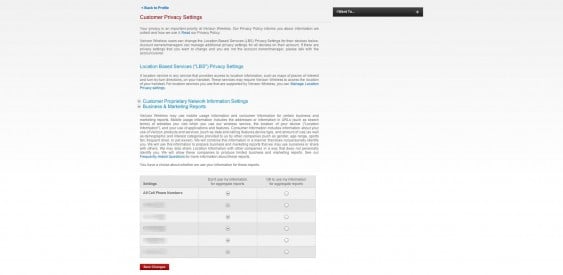 Obviously, this policy change isn't going to sit well with customers. At least there is something that those of you on Verizon can do it about it though. You can opt-out right this minute.
If you head here, you'll need to log-in first, you should be taken to a page where you can opt out of two sections. You'll want to opt-out of the first section, click save. Then, you'll want to go back in and opt-out of the second option and hit save. And then you'll want to go in and opt-out of the third section and click save. One of them, in the middle is pretty well hidden.
Once that is taken care of, you're done and Verizon won't be tracking your mobile movements any longer.
I really want to be able to say I'm surprised by this sleazy move but frankly, I'm not. Not in the slightest.
Via: Droid-Life

As an Amazon Associate I earn from qualifying purchases.