Verizon V640 EVDO ExpressCard Review from Gear Live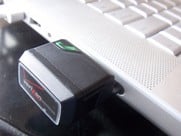 I'm sure we will see an increasing number of devices forsaking PCMIA slots for ExpressCard slots, which will of course lead to (we hope) an increasing number of ExpressCard devices such as wireless cards. Gear Live has reviewed Verizon's V640 EVDO ExpressCard. (I'm sure it will drive Dennis crazy that the review is with a Mac!) GearLive gives the device a 9 out of 10. Check ou the review here.
Hat tip to jkOnTheRun

As an Amazon Associate I earn from qualifying purchases.