Verizon Will Finally Get a Nokia Lumia With Image Stablization! (Rumor)
It's been long rumored that Verizon Wireless will someday carry a variant of rival AT&T's Lumia 920 (reviewed), and it seems that this may happen soon. A leaked listing of Verizon's inventory system shows that the Nokia Lumia 928, believed to be a variant of the Lumia 920, may launch soon.
The listing shows the Lumia 928 designation alongside a date of January 17, 2013. However, that date is far behind us now and so far the Lumia 928 has not launched.
When Verizon does in fact launch the Lumia 928, the device would be the first high-end Lumia smartphone for Verizon's 4G LTE network. Currently, Verizon offers the mid-range Nokia Lumia 822, but that device lacks some of the high-end features of the Lumia 920 and Lumia 928, such as a fast aperture lens coupled with an image stabilization mechanism. Together, this PureView camera technology allows the phone to take natural images without the aid of a flash in low light situation–there are two LED flash bulbs on the rear if you need it though. Additionally, it would also allow mobile videographers to record smoother videos that doesn't induce motion sickness.
The listing for Verizon's Lumia 928 was originally posted on Phone Arena.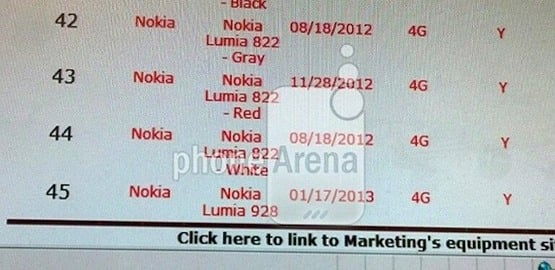 Verizon currently offers a number of competing Windows Phone 8 smartphones on its network, including the Windows Phone 8X by HTC–also referred to as the HTC 8X–along with the Samsung ATIV Odyssey.
The biggest complaint that owners of the Lumis 920 smartphone have currently is that the device is rather large and heavy. However, the Lumia 920 does pack in a lot of features, including native wireless charging built-in and the ability to use the touchscreen with normal gloves on.
If Verizon does intend on launching the Lumia 928, it should do it soon. Microsoft is rumored to be releasing a major software update, in the form of Windows Phone Blue, later this year that may introduce updated specs and newer devices when that release comes.