Verizon Wireless Lighting up 4G LTE on 12/5, Data Plan Pricing Revealed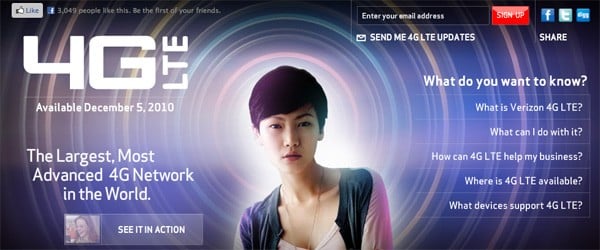 Verizon Wireless has unveiled more details about its 4G LTE network launch, which will be arriving in 38 major metropolitan markets. The roll-out will happen on Sunday, December 5th, and business users will be among the first to take advantage of the higher speeds, which the carrier is claiming to be 10 times faster than its 3G network.
The launch will be accompanied by a 4G data plan, which will cost $50 per month for 5 GB of data, along with new 4G LTE-compatible modems. The LG VL600 modem will be available at launch on December 5th while a Mantech UML290 modem will come at a later date.
With the USB modems, if a user travels outside of 4G coverage, the modem will transfer to a 3G connection. According to Engadget, "The modems are capable of 4G-to-3G handoff, but not 3G-to-4G — they'll stay on 3G until you're done transmitting data."
According to the press release that was sent out today, consumer handsets, or phones, should be available by mid-2011, though we've been hearing rumors that smartphones and handsets may arrive sooner than that.
The 4G data plans for USB modems seem to be aggressively priced and are comparable to 3G data pricing on the network.

This article may contain affiliate links. Click here for more details.