Verizon Wireless Drops Motorola Xoom 3G/4G Tablet Price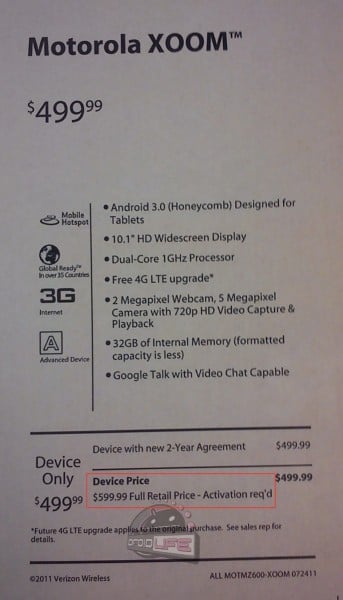 Ahead of the launch of the Samsung Galaxy Tab 10.1 4G LTE tablet on Verizon Wireless, the carrier is dropping the price of its debut Honeycomb tablet, the Motorola Xoom, to a more palatable $599.99 sans contract, though activation is required.
The Xoom with built-in mobile broadband support was launched at $799, a price that was considered to be too high for many despite the promise of a future hardware and software upgrade that would later enable the 4G LTE network support. Motorola said at the time that it wanted to get the Xoom out the door as fast as possible, so it opted to pre-bundle the tablet with Verizon 3G support. The carrier says that upgrading to 4G would give the tablet up to 10 times the data speeds of 3G.
The $600 3G model now of the Xoom is equivalent to the WiFi-only model in terms of pricing. Those who are considering the WiFi-only edition should probably get the one with built-in mobile broadband in case they ever need that feature in the future as the pricing is the same, unless users can find the WiFi-model discounted elsewhere.
Verizon will soon be offering the Samsung Galaxy Tab 10.1 with 4G LTE out of the gate, giving the Xoom some competition. Both devices sport a 10-inch display, Android 3.x Honeycomb, and dual-core NVIDIA Tegra 2 processors. Though the Xoom has an expandable micro SD car slot, the Galaxy Tab comes with a slimmer profile.
Via: Droid-life

This article may contain affiliate links. Click here for more details.