Verizon Wireless Extending Return Period For The Holidays
Normally, Verizon has a 14-day return policy, which gives you just two weeks to decide if you want to keep your new phone. But when shopping for the holidays you might not actually put that phone into the recipient's hands for weeks, especially if you're chasing a good deal. What's a gift giver to do?
Verizon Wireless is making it easier to gift phones this holiday by allowing people who've bought phones between November 15th and December 28th to return them through January 9th. So if you're looking to gift a phone (and why not choose one from our smartphone gift guide?) and want to give the recipient a good, long test period, now is the time to take advantage. Well, tomorrow is the time.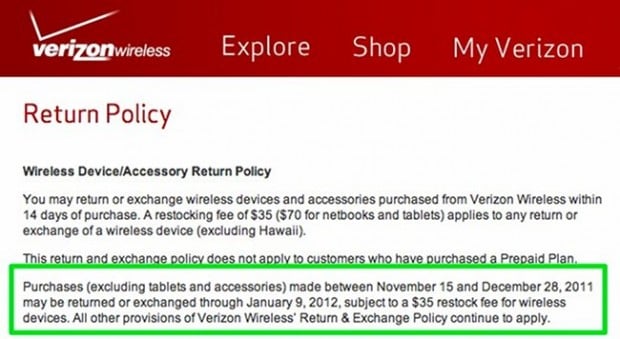 The folks over at Droid-Life suggest an even more devious scheme: if you want or need a sweet new phone but want to hold out for the Nexus, you can grab a RAZR or Rezound or Bionic or any other sweet phone, use it for a few weeks, then dump it like a bebound boyfriend the moment the Nexus is available.
You'll have to pay a $35 restocking fee, of course, but it could be worth it if you don't mind hopping from phone to phone.
If I were in to such things, I'd take the opportunity to try something new, like the iPhone 4S. Or, if you're already an iPhone owner, take a walk on the Android side for a month. Not that I would condone such activities.

As an Amazon Associate I earn from qualifying purchases.