Verizon Wireless to sell iPad + MiFi bundles, data starts at $20/mo
It's not quite a CDMA-equipped iPad, but the news out of Verizon Wireless and Apple comes pretty close: starting on October 28th, Verizon Wireless will sell an iPad + MiFi combo with data plans starting at $20 a month without a two-year contract.
From the press release:
BASKING RIDGE, NJ, and CUPERTINO, CA — Verizon Wireless and Apple® today announced that iPad™ will be available at over 2,000 Verizon Wireless Stores nationwide beginning Friday, October 28. Verizon Wireless will offer three bundles, all featuring an iPad Wi-Fi model and a Verizon MiFi 2200 Intelligent Mobile Hotspot, for a suggested retail price of $629.99 for iPad Wi-Fi 16GB + MiFi, $729.99 for iPad Wi-Fi 32GB + MiFi and $829.99 for iPad Wi-Fi 64GB + MiFi. Verizon Wireless is offering a monthly access plan to iPad customers of up to 1GB of data for just $20 a month. In addition, Verizon Wireless will also offer all three iPad Wi-Fi models on a stand-alone basis.
And from the FAQ:
Q: What are the data plans that will be offered for use with the iPad and MiFi promotional bundle?
A: $20 for 1GB ($20/1GB overage), $35 for 3GB ($10/1GB overage) or $50 for 5GB ($10/1 GB overage)
Q: Will customers have to sign a service agreement to purchase the iPad and MiFi promotional bundle from Verizon Wireless?
A: Customers will need to sign a service agreement for the 3G Plans with the MiFi device, but the plans will be available on a month-to-month basis without any termination fee.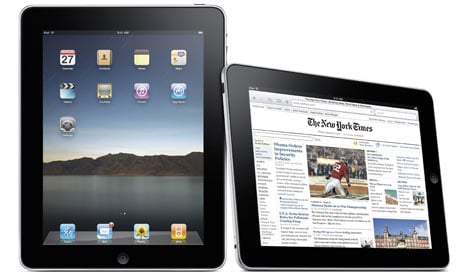 Same prices as a 3G equipped iPad but instead of using AT&T's service, it runs on Verizon. Instead of having 3G onboard, it uses a standalone mobile hotspot that also works with any other Wi-Fi device. There is a trade-off in convenience with this bundle compared to the AT&T iPad with built-in 3G, but it would be completely worth it to me, and I'm sure to Xavier and Warner who already use iPad + MiFi combos (and are in two-year contracts). This is a serious deal for anyone thinking about getting a MiFi with plan flexibility (you can always sell the iPad). I am definitely taking a serious look at this. Major impact in the current tablet wars.
Via Gizmodo

As an Amazon Associate I earn from qualifying purchases.