Verizon ZTE Jetpack Hands-On (Video)
At the Consumer Electronics Show, Verizon Wireless had announced two new mobile hotspots for its 4G LTE network to allow WiFi devices to connect to fast mobile broadband speeds. Both devices are named Jetpack, and one of them is made by Novatel in the form of the MiFi, which we had previewed earlier, and the second device is made by ZTE, which offers similar functionality like its MiFi counterpart.
Unlike the rectangular-shaped MiFi, the still pocketable ZTE-made Jetpack is square shaped and resembles closely the Overdrive and Overdrive Pro mobile hotspots, which is made by rival manufacturer Sierra Wireless for Sprint's Now Network. The device has an OLED display on top that will give customers access to battery life, network information, wireless ID and other features.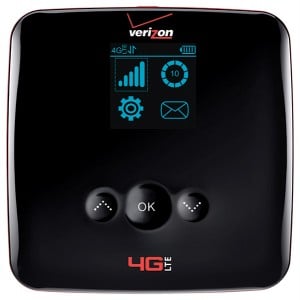 Unlike last year's mobile hotspots which connect either 5 (last year's MiFi) or 8 (last year's Samsung-made mobile hotspot), this year's ZTE and Novetel MiFi Jetpacks will connect up to 10 users to a single mobile broadband data plan.
Like the Novatel Jetpack, the ZTE Jetpack is also global ready. That means in the U.S., you'll have access to Verizon's 3G CDMA/EVDO network as well as 4G LTE, and abroad you can hop onto GSM/EDGE/HSPA networks. This will be a great benefit to business travelers who require connectivity while traveling overseas.
Verizon says both the ZTE and MiFi Jetpacks will be coming soon, but did not give specific availability nor pricing.
Press release:
LAS VEGAS, NV and BASKING RIDGE, NJ — From the 2012 International Consumer Electronics Show (CES), Verizon Wireless and ZTE today announced the Verizon Jetpack ™ – EuFi890. Developed by ZTE, the Jetpack is a Global Ready ™ 4G LTE Mobile Hotspot. Harnessing the power of the Verizon Wireless 4G LTE network, the Jetpack allows customers to share blazing fast internet connectivity with up to 10 Wi-Fi-enabled devices. The Jetpack will be in the Verizon booth (Las Vegas Convention Center, South Hall, Booth #30259) and ZTE booth (Las Vegas Convention Center, South Hall, Booth #35466).
The compact Jetpack comes equipped with an OLED screen and interactive keypad to help manage connections and settings and to display data usage alerts. Consumers and international business travelers alike can enjoy Web access in more than 205 countries, including more than 125 with 3G speeds, on their Wi-Fi-enabled devices using the Jetpack to watch movies, listen to music and conduct business. Verizon Wireless leads the way in 4G with the fastest and most reliable 4G network in the United States, covering more than 200 million people in 190 markets.
Key features:
4G LTE – Customers in the United States can expect fast download speeds of 5 to 12 megabits per second (Mbps) and upload speeds of 2 to 5 Mbps in Verizon Wireless 4G LTE Mobile Broadband coverage areas
Global Ready, allowing customers to enjoy wireless data service in more than 205 countries, including more than 125 with 3G speeds
Supports Quad Band EDGE and HSPA
Support for up to 10 Wi-Fi-enabled devices
OLED display with interactive keypad
Backward-compatible with the Verizon Wireless 3G network
Data usage alerts via text message displayed on the Jetpack
Wi-Fi Connectivity: 802.11 b/g/n
Supports Windows®, Macintosh®, Linux, and most other Wi-Fi enabled devices
Security: WEP/WPA/WPA2 and VPN pass-through support
Dimensions: 3.49" x 3.49" x .70"
Weight: 4.7 oz
The Verizon Jetpack, developed by ZTE, will be available in Verizon Wireless Communications Stores and online atwww.verizonwireless.com  in the coming weeks.

This article may contain affiliate links. Click here for more details.