Verizon's Marriage to Apple's iPhone to Happen by Valentine's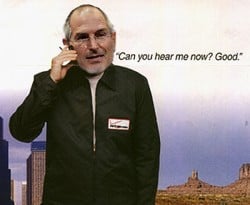 It looks like Apple and Verizon Wireless have courted each other long enough, and the fruition of that relationship may materialize in the form of the iPhone launching on Verizon Wireless by Valentine's Day according to sources of Bloomberg Businessweek. Sources say that the announcement will happen after the Consumer Electronics Show finishes in early January.
When Apple announced its first iPhone, it had stole the spotlight away from CES as the announcement took place during CES.
With the iPhone coming to Verizon, AT&T may not lose out too much. AT&T has been the exclusive carrier in the U.S. for the Apple smartphone since Apple had debuted the iPhone, but that exclusivity may be coming to an end as Apple may not be happy with just one partner. The carrier, in recent months, have been investing more on Android and is self-declaring itself as the premier carrier for Windows Phone 7. It is also touting the ability to handle simultaneous voice and data on its network as a competitive advantage.
AT&T had also raised early termination fees earlier this year, perhaps in a preemptive move to prevent customers from switching. Although the carrier usually is ranked last in terms of customer satisfaction, AT&T has been hard at work to boost its network performance. As a result, industry insiders believe that although customers may be frustrated with the carrier, they may not be frustrated enough to leave their contract early to hop onto Verizon, whose network has been praised in the path for reliability.
The other two major U.S. carriers have been unusually quiet at this point surrounding the iPhone launch on Verizon, and it's unclear whether T-Mobile USA and Sprint will also be receiving a love affair with the Apple smartphone–Sprint uses the same 3G technology as Verizon and T-Mobile USA uses the same GSM/HSPA 3G technology as AT&T, making their inclusion into the iPhone fold not so difficult to accommodate. It's unclear though if Verizon's first iPhone will be a 3G model or a 3G/4G LTE hybrid model.