Verizon's Motorola Droid RAZR M Pics, Specs Leaked
Ahead of the device's unveiling on September 5th in New York, it looks like specs and images for the Motorola Droid RAZR M for Verizon's 4G LTE network has been leaked. The device appears to be a close successor to the original Motorola Droid RAZR and would be a mid-range model slotting in under the leaked Motorola Droid RAZR HD when that device launches. The Droid RAZR M was previously rumored to be called a Droid RAZR Mini.
The device appears to retain the same screen size and the screen resolution as the original Motorola Droid RAZR, which uses a 4.3-inch Super AMOLED display with a qHD resolution. The new Droid RAZR M should use the new ColorBoost technology that debuted on AT&T's Motorola Atrix HD.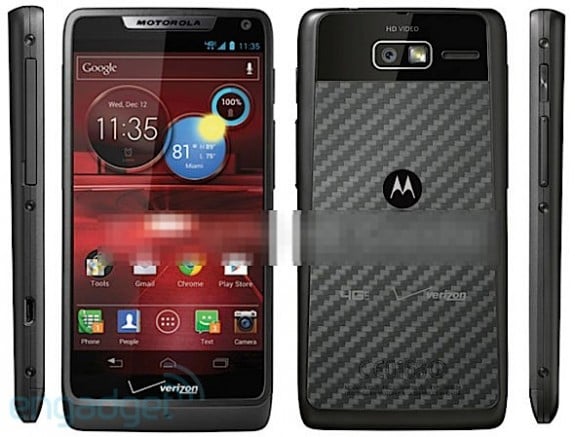 The Droid RAZR M will use a dual-core Snapdragon S4 processor from Qualcomm and will be a 4G LTE capable smartphone that is tuned for world-roaming thanks to a GSM/HSPA+ radio.
One thing that appears missing from the leaked photos posted on Engadget is the inclusion of an HDMI port of some kind, suggesting that this phone will not have access to Webtop capabilities nor be compatible for use with a Lapdock. The move may be to keep costs low. Other than that, you do have a Kevlar backing, an 8-megapixel rear camera, 3-megapixel front-facing camera, microSD card slot, and 8 GB of internal storage. There will be Gorilla Glass 2 on the front.
The Droid RAZR M is expected to be announced alongside the flagship Droid RAZR HD at Motorola's event in early September.

As an Amazon Associate I earn from qualifying purchases.