Verizon's New LTE Network Hitting Speeds of 80 Mbps
While Verizon is almost done rolling out its 4G LTE service across the US, it's not done making it better and faster. The carrier is currently testing a 2nd-generation LTE network, if you will, in New York City, and while it hasn't officially launched yet, some users are able to hop on and test out the waters, with one user consistently getting 80 Mbps download speeds and nearly 23 Mbps upload speeds.
Verizon was able to achieve these kinds of speeds by doubling up on frequencies, making its LTE twice as powerful and faster. The carrier is planning to deploy its new LTE on 40 MHz of spectrum in the 2.1 GHz Advanced Wireless Services (AWS) band. Verizon bought out all of the cable operators' 4G licenses last year, and they're starting to now take advantage of it.
Of course, it's important to note that once the new network launches and more people start using it, speeds will most likely drop, but they still should be plenty fast. However, seeing as how a 40-MHz LTE network theoretically supports 150 Mbps download speeds, it wouldn't surprise us if even the slowest connection still was insanely fast, but seeing as how this guy only got 80 Mbps, we mostly won't see that kind of speed once the network launches for everyone.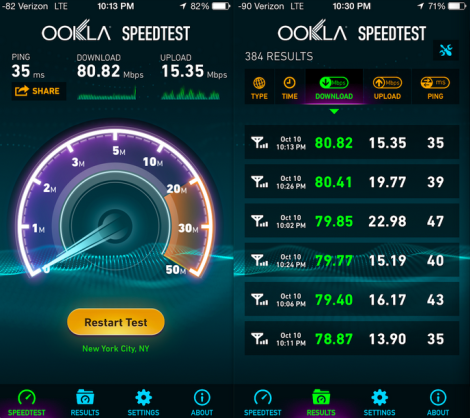 Reports of similar network sightings have popped up in Chicago and Los Angeles, though there hasn't been any confirmation on those so far. However, this does tell us that Verizon is planning to boost LTE speeds in bigger cities across the US.
AT&T has been the fastest of the LTE networks from all carriers on average, but Verizon is slowly catching up. Big Red currently has the best coverage, and that fact alone is enough to keep customers on its side. However, the carrier is looking to boost speeds as well, and it looks to take AT&T head on with this new LTE network roll out.
Furthermore, AT&T is still catching up with Verizon has far as coverage goes. Verizon is almost done with its 4G LTE rollout, while AT&T is still working on rolling it out to the smaller towns and cities in the US to fill in any gaps.