Verizon's New Tiered Data Plans Get Fully Detailed
It's taken a couple of days but all of the pieces are in place for Verizon's new tiered data plans and we wanted to run down all of the intel that's been gathered in one, quick and painless post. Before we get into it though, there is something that you should know. None of this has been confirmed yet. Verizon has yet to make anything regarding this official other than to say that changes will be coming in July.
What that means is that things you see here are subject to change before July 7th, the date that looks like it will be the day that unlimited data on Verizon dies for those signing up for new contracts. So keep that in mind.
Verizon Tiered Data Plans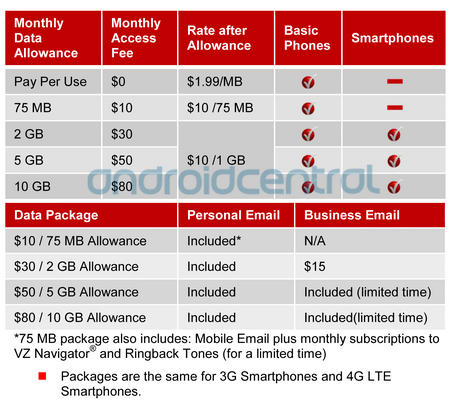 Nothing has changed since the new data plans first leaked out. The chart you see above comes courtesy of Android Central and its an official Verizon training document that makes everything extremely clear. Here are the tiers that we have coming our way in July:
2GB for $30
5GB for $50
10GB for $80
For every additional GB that you go over, you'll be charged $10. As we learned before, these plans apply to both 3G and 4G devices. So if you own a Droid Charge and your friend has a Droid X2 and you guys both have a 2GB data plan, you'll be paying the same amount.
Verizon Tiered Data Plans with Mobile Hotspot
Again, as we've known, tiered data plans will cost extra when paired with mobile hotspot. For $20 per month, you get an additional 2GB of data each month. So if you want to tether, it's going to cost you.
The Juicy Stuff
Now, this is probably the stuff that you wanted to see get confirmed. For now, tiered data is not going to apply to current customers signing new contracts or upgrading:
Existing customers can keep their current pricing when renewing and upgrading
New lines require new pricing
Data packages/plans cannot be back data prior to 7/7/11, except for the $50 and $80 Mobile Broadband plans (which are in place today)
So what this means is that if you have a $29.99 unlimited plan right now, you can keep it after July 7th rolls around. You will also be able to keep it if you upgrade, although, it's unclear if there is a price jump. It's also unknown how long this policy will last for. If you join Verizon between now and the 7th, the unlimited plan is available to you.
If you are thinking about adding a line, once July 7th comes, Verizon will not grant you the $29.99 unlimited option.
Verizon Indirect Dealer Memo
In case any of that has gone over your head, here is a complete summary of everything:
As of this morning we have been given the green light to start training on the data changes Verizon Wireless is making effective 7/7/11.

$29.99 unlimited data will be discontinued effective 7/7/11

EXISTING CUSTOMERS- That have our $29.99 unlimited data plan WILL BE GRANDFATHERED IN, they will keep their unlimited plan after 7/7/11

EXISTING CUSTOMERS- That current have the unlimited data WILL BE ABLE TO UPGRADE AND KEEP the unlimited data feature (No known end date on this as of this moment)

EXISTING CUSTOMERS- That add lines post 7/7/2011, will NOT be able to choose the $29.99 unlimited data feature

NEW CUSTOMERS- Any customer that sets up service from now, until 7/7/2011 WILL BE ON, AND WILL BE GRANDFATHERED into our $29.99 unlimited data package

NEW CUSTOMERS- Any new customer that set up service AFTER 7/7/2011, WILL NOT be able to choose the $29.99 unlimited plan

BUSINESS DISCOUNTS- Currently our business discounts apply to the $29.99 data plan on the primary line only. Most discounts are 20% despite whatever monthly access discount they have

BUSINESS DISCOUNTS- After 7/7/2011 data discounts will only apply to the $50 and higher data packages on the primary line.

Discount break down ex. of customers with a 20% feature discount on their primary line. ($50-20%=$40/month for 5GB and includes the business e-mail feature)

— ($20/GB vs. $40/GB+ Business e-mail )

New data pricing for smart phones is as follows:

$30 for 2GB with $10/GB overage

$50 for 5GB (this also includes business e-mail at no additional charge) with $10/GB overage

$80 for 10GB (this also includes business e-mail at no additional charge) with $10/GB overage

So all changes effective July 7th, 2011.

Existing customer KEEP their $29.99 unlimited data plan

If an existing customer upgrades from a feature phone to a smart phone after 7/7/11, they will NOT be able to add on the unlimited data package. They must choose from the new data plans.

Anyone who sets up new service with unlimited data, upgrades from a feature phone to a smart phone with unlimited data, or customer currently on the $29.99 before July, 7, 2011 will be grandfathered in.

These changes also apply to employee plans as well (personal accounts w/work discounts applied)

SO, This is a huge time for us to set our customers up with the right package for them! We only have 14 DAYS remaining for unlimited data, and until the new data pricing takes effect. (14 days to setup new customers w/unlimited data, and customers upgrading from a feature phone to a smart phone)

PLEASE, PLEASE make sure we take advantage of this heads up and get our heavy data users set up on these unlimited plans before they change.

Please call, text or e-mail me any questions or concerns you might have.
Hopefully that makes it a little more bearable for those of you who have been confused about what's going on (I've received a ton of emails). I also want to tell you guys to be careful. It's a Verizon reps job to upsell you so please be careful those of you who are going to be signing new contracts after the 7th rolls around.
Make sure you look at your previous billing statements to see how much data you chew up. You'd be surprised how little some of the numbers might be. I use my phone a lot and I have a hard time even getting to 1GB in a month.