Verizon's Nokia Lumia 822 Gets Spotted in Leaked Photos
It looks like the leaked Nokia Windows Phone 8 smartphone for Verizon's network that was known as 'Atlas' may arrive as the Lumia 822 when it hits Verizon's 4G LTE network. Leaked photos of the Verizon-bound Lumia 822 were seen recently in the wild that matches the earlier leaked press photos for the Nokia Atlas smartphone.
While not a lot of specifics are known about the Windows Phone 8 device, it may be a mid-range device similar to the Lumia 820 on AT&T's network or the Lumia 810 for T-Mobile USA. The device does have the 4G LTE branding on the rear so LTE inclusion is a definite.
According to the images posted on WMPU, on the front, the slight lip of plastic on this device where the Verizon logo sits reminds me a lot of the HTC Nexus One's design, though the lip portion below the display is more minimal on the Lumia 822's design.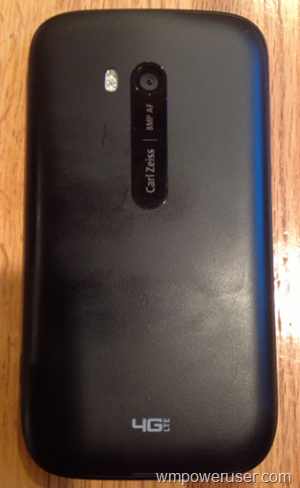 If the Lumia 822 is a variant of AT&T's exclusive Lumia 820 in the U.S., the device will have a 4.3-inch WVGA Clear Black Display, 8-megapixel rear camera with Carl Zeiss (though no PureView technology on this one compared to the Lumia 920), dual-core Snapdragon S4 CPU clocked at 1.5 GHz, micro SD card for expansion, NFC, and Qi-compatible wireless charging.
It's unclear when the Lumia 822 will launch or at what price. Given that it's a midrange device, pricing should be aggressive and competitive as Nokia will hope to increase its market share in the U.S.
Microsoft is hosting a Windows Phone 8 event at the end of the month and devices may start appearing in either late October or early November. Given the launch timing, Windows Phone 8 may be competing for attention against the much rumored LG-made Google Nexus 4.
In the past, Verizon has been conservative with its Windows Phone portfolio having only launched the single Windows Phone 7 device in the form of the HTC Trophy.
It's also unclear whether or not Verizon will be getting a higher specced Lumia in its lineup. Previous leaks and rumors about a Lumia for Verizon's network promised commendable hardware features that would be on par with AT&T's Lumia 920.

As an Amazon Associate I earn from qualifying purchases.