Verizon's Nokia Lumia 822 Photos Leak With Three Colors
It looks like Nokia's rumored Lumia 822, a mid-range Windows Phone 8 handset, that's destined to be coming to Verizon's 4G LTE network in the U.S., may debut in three colors. Leaked press photos of what is believed to be the Lumia 822 show the device in black, grey, and white. Verizon's colors are more subdued than the bright and colorful hues that rival carrier AT&T is picking up for its range of Nokia's Windows Phone 8 Lumias, which include the Lumia 820 and the Lumia 920.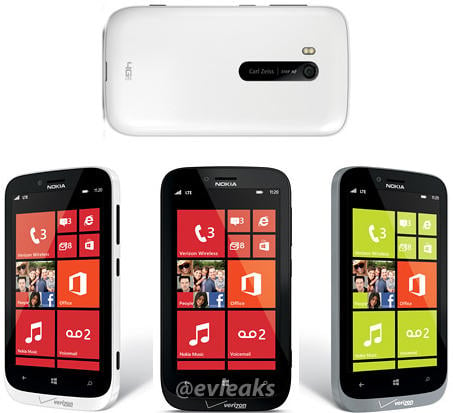 The images were leaked on Twitter by user @evleaks, who has been accurate with leaks and rumors in the past.
While the Lumia 822 is believed to be a mid-range handset for Verizon Wireless that would compete directly with the Lumia 820 on AT&T, there had been rumors of a high-end Lumia with PureView camera technology for Verizon in the past. However, there are also speculations that AT&T may have a six-month exclusivity period for the flagship Lumia 920, so it may be sometime before we see a flagship Lumia head to Verizon–whether that device will be called the Lumia 922 to match Verizon's 822 naming convention is unknown.
The Lumia 822 is slated to arrive on November 12 for just under $100 according to a recent leak.
While Verizon Wireless had commented in the past that it's committed to bringing multiple Windows Phone 8 models to its network, the carrier has not publicly announced which models it would support. In addition to the Lumia 822 from Nokia, Verizon is also rumored to be carrying the HTC 8X, which is HTC's flagship model that would go head-to-head with the higher-end Nokia Lumia 920 on AT&T. In addition to HTC and Nokia, Samsung had also announced its own Windows Phone 8 device in the form of the Ativ S.
Microsoft is scheduled to have a Windows Phone 8 event in San Francisco, California today, so hopefully we'll know more solid information about various devices for various U.S. carriers at that time.

As an Amazon Associate I earn from qualifying purchases.