Verizon's Website Shows 6 Possible iPhone 4S Configurations
If you're eyeing the iPhone 4S and want Verizon Wireless as your carrier in the U.S., the nation's largest CDMA carrier now has the iPhone 4S on its website for pre-order. The phone will come in 6 possible configurations. Essentially, you have two color options, as you did with last year's iPhone 4, in either black or white. Each color option will get three possible storage configurations–16, 32, or 64 GB. This year's addition of the 64 GB iPhone 4S will make it the iPhone with the largest amount of on-board storage Apple has ever sold, and that's important if you consume digital content. Now, with e-books, TV and movie rentals, music, magazines, users can also capture images with a higher 8-megapixel resolution camera and also record videos in 1080p, which means larger file sizes.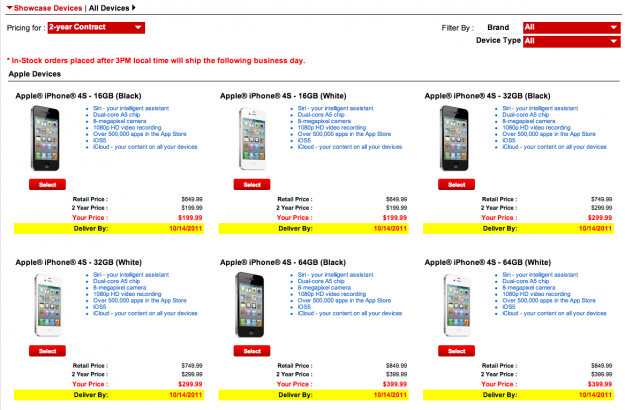 Meanwhile, AT&T and Apple are struggling with their websites under heavy traffic. Both Sprint and Verizon are doing fine under the traffic so far as pre-orders are just kicking off.

As an Amazon Associate I earn from qualifying purchases.