Very Thin Dell Inspiron Mini 12 Netbook About to Debut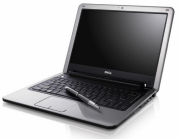 Looks like the Dell Inspiron Mini 12 wants to contend with the MacBook Air for thin and light status. It certainly knocks the heck out of it on the price front with a $600 pricetag. That said, we're not seeing all the specs yet, but word is popping out all over on this Sunday about the Mini 12. (Don't let that pen fool you. It isn't a Tablet PC.)
A 12 inch screen (the Mini 9 has a 9 inch screen-catch the pattern?)
Glossy black case
around 1 inch thick (or thin)
Ubuntu OS and other options (XP and Vista Home Basic according to Crave)
3 USB ports, VGA out, audio jacks
dedicated row of function keys
It will fit in a manila envelope
Joanna Stern at Laptop Mag and the folks at Crave got an early look and have posted some info. I'm sure we'll hear more very soon now. UPDATE: You actually will have a choice of processor, either the Intel Atom Z530 at 1.6GHz or 1.3GHz. Note that this isn't the N270 we're so used to seeing up to this point. Also note that this is headed to Japan first and to the US in Novmeber. The $600 price ships with a 3 cell battery and a 6 cell will be available for $79 that promises 6 hours of battery life. Display wll be 1280×800. Here's a link to the press release.
The second picture below is from Joanna's post on Laptop Mag comparing it to the Air.

As an Amazon Associate I earn from qualifying purchases.