Verykool s470 Black Pearl Review: A Budget Phone With Flagship Dreams
We often focus on flagship phones because their manufacturers have spent a lot of time refining the designs, upgrading the software to create a more refined user experience, and bringing the best-in-class hardware specs for the time that becomes the talk of the year essentially. However, one phone to consider, especially if you didn't get a phone as an item on your wish list this holiday, is the Verykool s470 Black Pearl, a device that retails for just a little over $200 without a contract, compared to the $600 or more for a high-end flagship Android or iPhone. As a more affordable phone, the Verykool s470 doesn't skimp on features either, boasting a quad-core processor, 720p HD display, and an 8-megapixel rear shooter, but can it perform against some of the best Android phones out there? Read on to find out.
Hardware
Rather than reinventing the wheel with a radical design, the s470 maintains a more conservative approach on design. Cloaked in black–hence the Black Pearl name–the s470 is a minimalist phone that, in a lot of ways, reminds me of the Google Nexus 4 with straight side edges and curved top and bottom edges.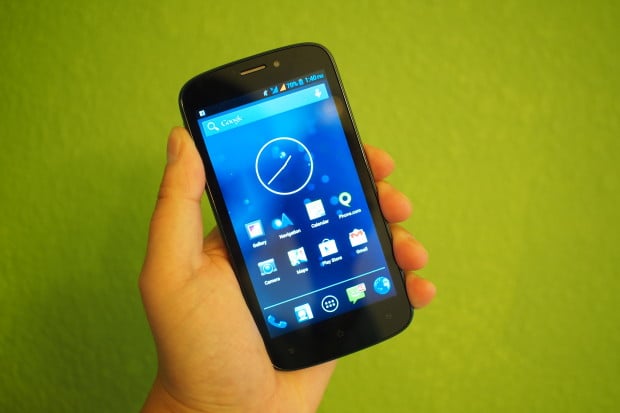 The phone has a generous 4.7-inch IPS display lending to good viewing angles. The 720p HD resolution isn't quite the full HD of the Nexus 5, which costs roughly $100 more, but it does offer a vibrant experience. The one nitpick I have with the screen is that the display can be difficult to make out under bright direct sunlight and looks washed out outdoors. However, indoors and under ambient lighting, it looks great.
And unlike the Nexus 4, the trio of Android navigation keys aren't shifted insider the display. Rather, they remain as capacitive touch buttons just south of the screen.
The phone overall has a clean design. At the upper left spine, you'll have the volume rocker, at the top you have a 3.5 mm headphone jack and power button, and on the right sight towards the bottom sits a notch where the back cover is accessible.
The hardware design of the s470 feels solid without and flexes. It has a removable back battery cover where you can swap out a battery, add a removable memory card, or insert up to two SIMs. Dual SIM phones are still a rarity in the U.S., and Verykool's approach here makes the s470 a nice companion for those who may travel frequently so they don't have to swap between two local SIMs depending on where they are at the moment, or for those who must maintain a separate business and personal numbers.
In reality, this concept works well, and though it does support two mini SIM cards, you don't have to use both and you can just insert one SIM card and use it like a standard smartphone. When you use two SIMs–I have an AT&T SIM card and a T-Mobile SIM card inserted into my review unit–you can customize which colors the network show up as. For example, AT&T is color coded to blue while T-Mobile is color coded to pink.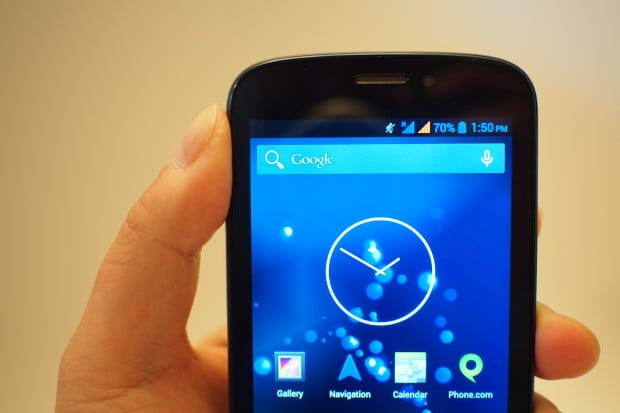 This way, your signal strength indicator and caller ID window will be in the same colors so you can quickly identify your network performance and where your calls are coming from so you'll quickly know if the call is coming in from your work line or your personal line.
The dual SIM situation allows you to maintain two separate lines on the same hardware, so the benefit for consumers is that if you like the s470 hardware, you will only need to carry just one phone.
On the rear, you have an 8-megapixel camera that can record 1080p HD video and is accompanied by two LED flash bulbs to help illuminate the picture in dark environments. A perforated slit is located towards the bottom of the back cover where the rear loud speaker is situated.
And centered on the bottom edge, we have space for a micro USB charging port. Though the phone feels solid itself, Verykool could do some work to make the micro USB charging port to feel more solid. The port doesn't wiggle, but most standard micro USB cables that I have accumulated at the office do fall out of the port. Except for a few cables that plug in snugly, this means that I would have to be sure that the cable is plugged in and remains plugged in overnight if I want to charge the phone, else I would wake up with a dead battery in the morning if the cable slips out and the phone doesn't charge.
Despite its understated appearance, an aesthetic complaint with the Verykool is that the logo is a bit glaring on the back. It would have been very "cool" if the manufacturer had not imprinted Verykool with a 'K' on the back.
Performance
To keep the low $200 off-contract price intact–the phone has an MSRP of $230, or roughly the same as 2013's Nexus 7 refresh–the company did skip a few corners. Though the Verykool does have flagship aspirations with its quad-core processor, it's not the same fancy quad-core Tegra or Snapdragon chipset. You will also be limited to 1 GB of RAM as well as a paltry few gigs of internal storage; likely you'll want to invest in that micro SD card.
In the real world, most users will find that the s470 performs fluidly as it is aided by a PowerVR graphics chip. Things do slide along with ease. However, if you're juggling many heavy tasks–like downloading and installing apps from the Google Play Store while at the same time opening and trying to play a game, you'll notice some slow-downs in the system and the performance of the phone does suffer from some lag, but not quite as painstakingly slow as comparable devices running a dual-core CPU such as the Galaxy S4 Zoom camera phone from Samsung.
In essence, light to moderate users will find a lot to like about the performance of this device, and even power users who want to save the $100 from the Nexus 5 could appreciate what Verykool has done in balancing price and performance. Heavy users should look at other premium handsets for the performance of a better chipset, though many of them will lack a dual SIM option.
Software
The Verykool s470 runs a pretty vanilla build of Android 4.2.1 Jelly Bean, so comparisons with the Nexus series from Google are even more apt on the software front. Verykool did make some slight customizations and added a few apps to get users started, though the additions are no where near as robust nor overwhelming as other manufacturers implement.
The s470 comes with a built-in file manager, a getting started guide, as well as an OOBE app, which stands for "out of box experience." The OOBE app is like a first-time setup for Android in getting some of the basic settings and customizations applied, but on the s470 it also helps users configure which networks to use, especially when using the dual-SIM aspect of the phone. Through the OOBE app, users can set to have outgoing calls and text default to one number or the other, and choose which SIM to connect to mobile HSPA+ data networks. Incoming calls to either number would ring the phone.
Camera
Customers looking at using the s470 as a full-time camera may be disappointed to find the device's optical performance to be a mixed bag. It's still a great value for what you're paying for, but the camera experience is no where near as consistently good as similar resolution cameras on older flagships, like the iPhone 4S, the Galaxy S4, or other models. In good light, the camera did a decent job, but lacked the dynamic range, color tonality, or detail retention of more expensive phones. In low light, the dual LED flash helps, and though we were satisfied with the camera in general as a quick documentation tool, we were often left wanting more.
The camera app has a relatively clean UI. On the left side is a carousel for quickly applying various scenes and settings. Quick access to the flash and front-facing 2-megapixel camera sits readily accessible on the right, as are the camera and video buttons. A settings button allows for more fine-tuned controls.
Another quirk with the camera is that tapping the video button will not only switch you into video recording mode to capture footage with up to 1080p of resolution, but it will also automatically begin recording. This could be slightly jarring as many users expect to first switch to video mode, and then be given an option for a red dot so they can press when they are actually ready to begin recording video. It's a different mindset.
Be sure to check out some of the sample shots posted below to gauge image quality for yourself.
Network
The Verykool s470 works on AT&T's and T-Mobile's networks in the U.S. The phone comes with 4G HSPA+ and won't be able to connect to the even more speedy LTE networks operated by either U.S. carrier.
In terms of data performance, in the San Francisco Bay Area, data download speeds were pretty zippy on HSPA+. Call quality sounded fine on my end, though callers noted that my voice sounded a little bit more muffled when they are taking my calls.  The loud speaker does a decent job, though the volume sounded a bit on the tiny side.
Conclusion
Despite its name, the Verykool phone is a pretty cool phone to have given its dual SIM capabilities. Though the phone doesn't excel in any particular area–it's not a flagship imaging phone in the same vein as the Nokia Lumia 1020 on AT&T–but it does most things well. Given the $230 price tag that the Verykool phone retails for, there aren't many phones that come with dual SIM support and come loaded with the specs that the s470 boasts.
For those who don't care about having two active SIM cards in the phone at the same time, there may be other better options out there, such as Motorola's Moto G as well as Google's Nexus 5. The Nexus 5 costs around $100 more than the s470, but comes with a better display, better processor, more storage, and LTE support. Where the s470 shines is that it offers a nice blend of compromises for a good price tag while adding dual SIM support for users who need this feature, which is still pretty rare to find on a phone in the U.S. market.

This article may contain affiliate links. Click here for more details.