verykool Spark LTE Review: Quality and Budget Together
Android phones don't all come from the likes of Samsung, LG, Google, HTC or Motorola. In fact, Android smart phone users can save some money and still get a nice phone if they look at other brands such as the verykool Spark LTE Android smartphone. The verykool Spark LTE SL5011 4G LTE Android 5.1 smartphone looks a bit like Samsung and Apple put aside their differences and designed a budget Android phone.
The headline feature of the verykool Spark LTE is the $179 price. That's one-third or one-fourth the cost of the flagship phones like the newly released Samsung Galaxy S7 or the upcoming LG G5. Can a budget phone compete with the new S7, S7 Edge or G5?
The Benefits of a Budget Android Phone
Most smart phone buyers never see the $700 or $800 price of the phone because they buy their phones from a carrier subsidized or in monthly lease or loan payments. These companies buy them from the phone makers and then sell them for $200 or for $25-$45 per month added to the buyer's phone bill. This forces the buyer to keep the service on the phone for two years or pay a fee to get out early. A $179 phone without monthly payments or a one to two-year contract will benefit the buyer, if they can get an adequate level of quality.
The verykool Spark LTE can't compete with the flagship phones on specs or quality. However, users on a tighter budget might enjoy a phone like this one.
What We Like:
Price
Display quality despite low resolution
Excellent design for a budget phone
What We Don't Like:
Only runs Android 5.1
Camera quality sub par
Performance sluggishness
No fingerprint reader
Below average battery life
Only 16GB of storage
verykool Spark LTE Display
The phone's 5-inch IPS display sports a 720 x 1280 resolution, a little low by modern standards. However, the 294ppi density means crisp text and excellent image quality. The screen's tempered glass should hold up well to keys in a pocket or purse and other hard sharp objects that might scratch the display.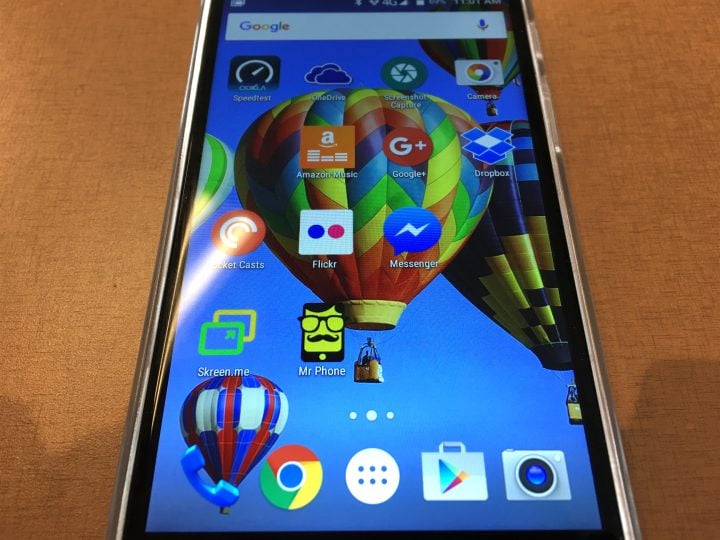 The screen looks bright and colors pop. Compared to my Samsung Galaxy Note 5, it looks pretty good. Obviously the Note 5 display looks better, but you have to look hard to see the difference.
verykool Spark LTE Design
You'd expect a budget phone like this to feel cheap. The verykool Spark LTE doesn't. Around the edges verykool used a thin metal band that's only 7.5mm thick. The curve feels comfortable to hold. I'm used to carrying either a Note 5 or iPhone 6s Plus so it seems tiny. People not sold on the phablet craze will enjoy the smaller device.
The phone feels solid, like my Note 5. A 1mm bezel makes the phone smaller than most budget 5-inch phones. The black plastic back doesn't feel cheap. The design looks and feels like it costs more than the low price.
The volume up/down rocker button and the display power button sit on the right of the verykool Spark LTE.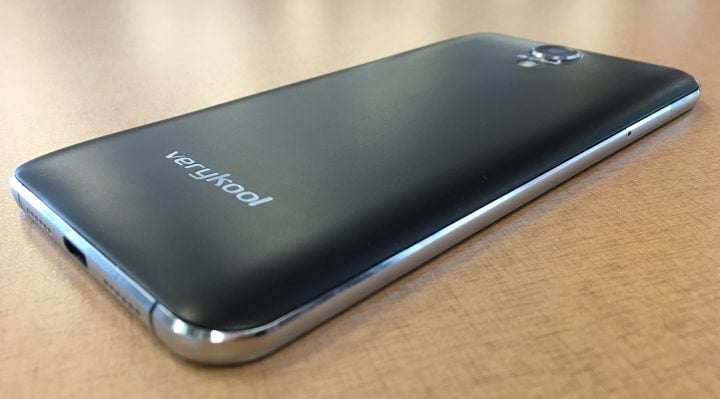 The left side carries the SIM card tray that doubles as a micro-SD card slot. This tray holds two cards. Put your SIM card in and a micro-SD card (up to 128GB) or insert two SIM cards and use it with two numbers. That's a great option for people who travel internationally: wanting to use one line for domestic and one for international calls. It's also good for those who must monitor two lines but only want to carry one phone.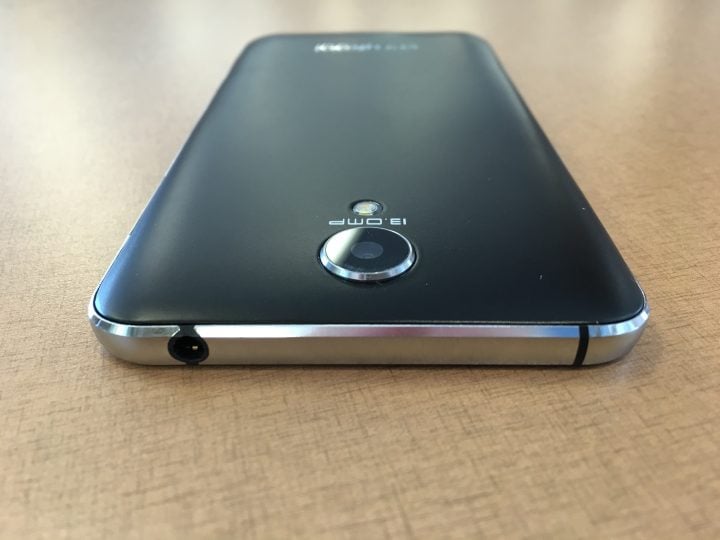 On the top edge we see the headphone and mic combo jack. There's also two black plastic strips that allow the radio signal to pass through the metal band.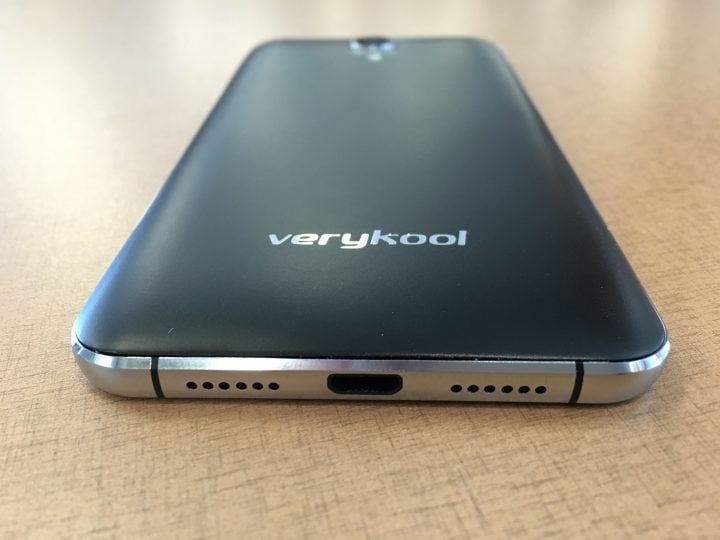 The bottom edge also has two black strips for radio signal pass through. We also get two stereo speakers and the micro-USB port.
On the front there's the screen and three touch sensitive buttons that follow traditional Android arrangement of back, home and app switcher.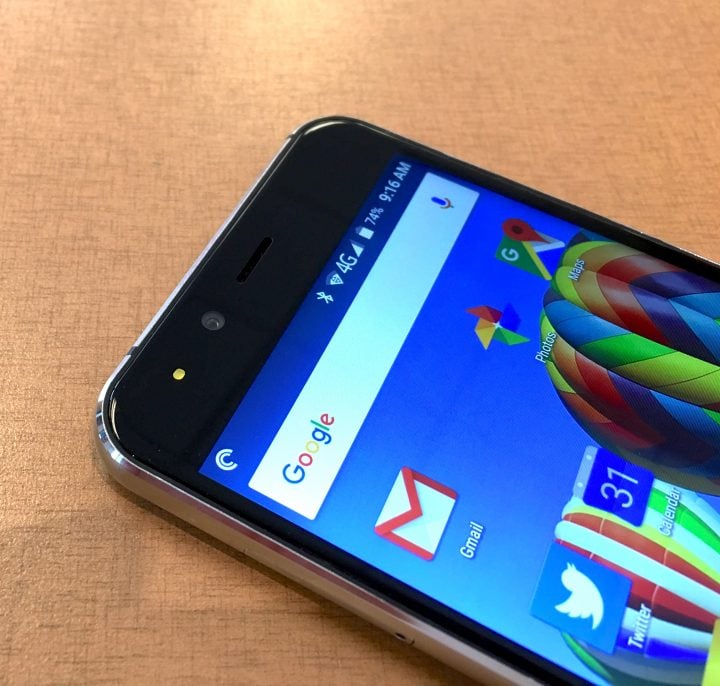 Above the screen, the bezel holds the opening for the front facing camera, a speaker for listening during phone calls and the light sensor.
verykool Spark LTE Camera
verykool put a 13 MP rear-facing camera  with Auto Focus and LED Flash and a 8 MP front-facing camera with LED Flash for selfies. The image quality is not very good. It's soft and often out of focus while holding the phone as the user taps the capture button. People who like to take photos with their cameras will not like this camera.
A video that I took in my backyard looks like a  series of shots pieced together. The video is not at all smooth while playing it on the phone itself. It looks decent, but the stuttering gets terribly annoying. It looks smooth played on a computer or from YouTube, so this likely comes from the poor phone performance.
The image gallery below will give you some samples to show how soft and grainy these shots look.
The verykool Spark LTE camera starts up a little slow like most apps on the phone. The software gives us some useful features including:
HDR
Gesture capture
GPS location tagging
Controls of exposure
Multiple scene modes
White balance control
Motion tracking mode
Life photo mode (the Harry Potter effect where photos come to life)
Face beauty mode (smooths out blemishes)
If you only want a camera to remember moments, then it might meet expectations. Don't rely on it for great shots. You'll need to carry a dedicated camera for vacations or special occasions.
verykool Spark LTE Performance and Battery Life
As a phone, it's fine. The call quality sounds tinny and muffled while using the built-in phone speaker. On the other end, the quality's fine.
The verykool Spark LTE suffers from sluggish performance. The quad-core MediaTek processor with its 4 64-bit 1.0GHz processors runs a little slow, especially with a number of apps loaded. For the first time since my last budget phone review, I needed to clear apps repeatedly. While downloading app updates, the user might as well put it down and wait till the Play Store finishes.
When the phone first starts up it feels snappy. However, the 1GB of RAM fills up quickly and Android's memory management doesn't help. If they included 2GB of RAM, I think the processor would keep up just fine.
The phone downloads data fast enough on both Wi-Fi and over LTE. The connection quality seemed as good as more expensive phones.
The left screen shot below shows the less that expected battery life and the right shows acceptable LTE speeds for my area on T-Mobile.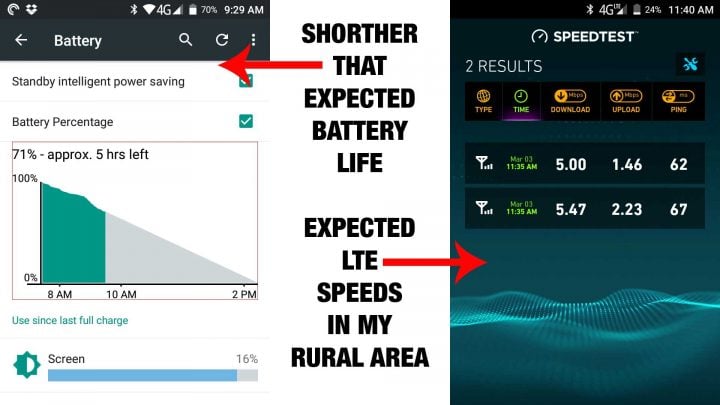 Other's claim their phones get great battery life. Our review unit didn't. We got about 12 hours of heavy use which means it should last through most of a business day, but will fail to keep running into a late night without a charge. The lack of fast charging doesn't help.
verykool Spark LTE Specs
As we said above, the verykool Spark LTE can't compete head-to-head with the big name flagship phones in terms of specs. However, for a budget phone, it's not too bad.
The phone runs on all the big name carriers' high speed networks with full 4G LTE capability with GSM, UMTS/WCDMA, 3FF and HSDPA+. Users can pop in their SIM from AT&T or T-Mobile and it works fine. We tested it on T-Mobile without any issues. Sorry Verizon or Sprint users.
The 16GB of internal storage means users will want to add a micro-SD card for media files. It runs Android 5.1 and there's no word on a Marshmallow update. That means we won't get access to the new Android 6 feature that lest users use their micro-SD cards as if they're internal storage.
Here's a full list of the detailed specs:
DAT: 4G LTE CAT 4, 150Mbps DL, 50Mbps UL, HSPA+ 42Mbps DL, 11Mbps UL, BAND LTE (FDD) :

B2/4/5/7/17
UMTS/WCDMA : B2/4/5
GSM : 850/900/1800/1900MHz
3FF(MicroSIM), and '3FF or Micro SD

OS: Android 5.1 Lollipop
CPU: Powered by MediaTek's Quad-Core Processor : MediaTek MT6735P 1.0GHz CPU powered by four Cortex-A53
SIZE: 143.0 x 71.1 x 7.50 mm; WEIGHT 156 grams
BATTERY: Li-Po 2,200 mAh with Up to 8 hours talk time and up to 11 days standby time
SCREEN: 5.0" HD IPS-LCD Capacitive Touchscreen with Tempered Glass
RESOLUTION: 720 x 1280 pixels, 294ppi
CONNECTIVITY: Bluetooth 4.0 LE, Wi-Fi, Wi-Fi Hotspots
USB: Tethering, USB 2.0 Data Port
CAMERA: 13 MP Rear with Auto Focus and LED Flash and 8 MP Front with LED Flash
DATA: Internet, SMS, MMS, E-mail
MEMORY: 16GB ROM, External (micro SD) up to 64GB and 1GB RAM
MULTIMEDIA: FM Radio with 3.5mm headphone/mic jack
Final Thoughts
Anyone that wants a decent Android smart phone, but doesn't want the high price of a flagship phone from Samsung, LG, or HTC, can get what they need for less than a subsidized high-end phone or for the same price as about 5-7 months of a lease payment. This gives the user freedom. A verykool Spark LTE owner can jump from one carrier to another or even use two different carriers thanks to the dual-SIM card slot.
If you use both slots in the SIM tray for SIMs, you won't get extra storage. People who store a lot of movies or music will need that extra micro-SD card storage because the phone only comes with 16GB of built-in storage and less than 12GB is available to the user.
Compared to other budget phones, the verykool Spark LTE enjoys better than average build quality and screen quality. There aren't any frills and weak performance means owners should lower their expectations. Get this phone for your kid or someone who doesn't need a smart phone for more than basic phone features, some social networking and email. It's also a useful backup phone for international travelers. However, hard-core users should look for a more expensive unlocked phone like the Motorola Moto G, which we called the Best 2015 Budget Android phone. It only costs $70 more and you get a far superior phone.
If you decide you need a budget phone and don't care about running a lot of apps or taking a lot of photos, then head over to the verykool site and pick one up today for $179 or Amazon for a little less.

This article may contain affiliate links. Click here for more details.