Google Exec Posts Photos Taken with Nexus 10 Tablet
Google senior Vice President of Engineering Vic Gundotra is posting photos from his vacation using the unannounced Samsung Nexus 10 according to Android Central.
The photos Gundotra posted to Google+ show a beach on what looks like a tropical island of some sort. The photos are likely resized to fit on Google+ with a resolution of 2048×1536 or 3.1MP. The data for the photos list the Nexus 10 as the camera, but doesn't give much more information.
The Nexus 10 is one of the devices Google will likely announce during its event on Monday, October 29. The other devices Google will likely announce at the even are the LG Nexus 4 and an upgraded Nexus 7 with 32GB of storage space.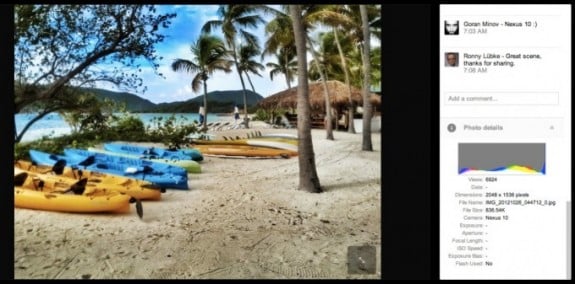 Recent rumors say the Nexus 10 is a collaboration between Samsung and Google to combat the 9.7-inch iPad. A recently leaked manual for the device shows a tablet that looks a lot like recent Samsung tablet such as the Galaxy Note 10.1 and Galaxy Tab 10.1 2.
To compete against the iPad the Samsung Nexus 10 will have a 10-inch 2560×1600 display. Such a display will have a higher pixel density than the Retina Display on the iPad which is currently referred to as one of the best displays available on any mobile device.
Not much else is known about the Nexus 10, though it will likely run Android 4.2 Jelly Bean like the LG Nexus 4. The Nexus 10 is Google's first attempt at making a 10-inch Nexus device, and the first time it's worked closely with a manufacturer on a 10-inch tablet since the Motorola Xoom.

As an Amazon Associate I earn from qualifying purchases.