Video demo of Vega tablet powered by NVIDIA Tegra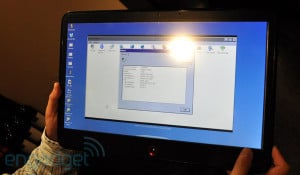 Engadget has video of a tablet prototype reportedly of the same variety spotted earlier with NVIDIA CEO Jen-Hsun Huang. It's a monster of a tablet with a 15″ diagonal, but it's just under an inch thick and packs enough video punch to run 720p video courtesy of its Tegra graphics system. Confirmed is the fact that it is the same device as the ICD Vega tablet, right down to the magnetic back and docking system, though I'm not sure why Engadget seems to avoid mentioning the Vega name. Maybe it's the name recognition of NVIDIA Tegra.
Obviously not the most mobile device at 15″ (I think my 14″ tablet is beyond the limit for many), and it really shows when you see how broad this thing is. However, the Vega reportedly will also be offered in 7- and 11-inch models, so don't upsize your backpack just yet. Given the demise of the CrunchPad and never-ending mythic status of Apple's tablet, the Vega is starting to look like the slate to watch in 2010.